2021 marked the second year of service in a world with COVID-19. While still riding the waves of the pandemic, we navigated them with the power and passion of our now united organization.
With your support, Ronald McDonald House Charities of Northeast Ohio, Inc. continued to serve families safely, accepting more guests at the Akron and Cleveland Ronald McDonald House and Family Room programs in our partner hospitals. As COVID precautions prompted modifications, we innovated to meet family needs in new ways.
In 2021 our programs served more than 22,000 families. Our Ronald McDonald House programs in Akron and Cleveland welcomed 620 families from 13 countries, 39 states and 59 Ohio Counties, staying 12,025 nights. At the hospitals, we served 2,069 families who visited Family Room locations 10,215 times.
Though still limited by COVID restrictions, our Care Mobile provided dental care and health education to 632 families. Our online Ronald McDonald Family Resource Link, RedTreehouse.org, was used by 18,373 unique visitors to find the support they needed.
The resolve of our families, staff, volunteers, and partners throughout the year is reflected within the pages of our 2021 Impact Report. Together we not only coped and responded, but significantly impacted lives and proactively laid paths embracing a new normal.
LOOKING FORWARD
A new three-year strategic plan was developed and approved, along with a new vision statement to propel RMHC Northeast Ohio forward. With the support of our community and partners, we are steering toward this unified vision:
Inspiring hope when and where families need it most.
We renewed our commitment to shared values and are building a future strengthened by the six strategic pillars of our 2022-2024 Strategic Plan.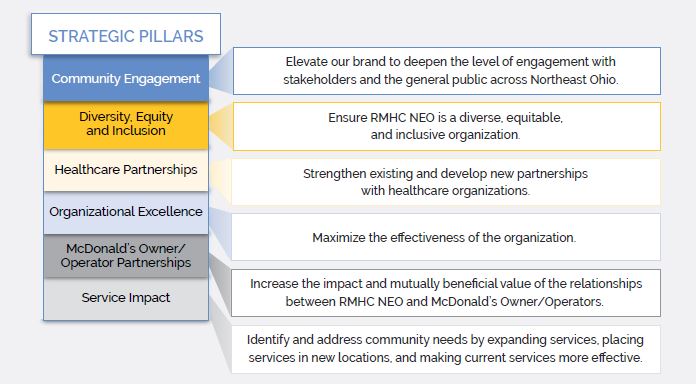 The resilience and innovation of our families, staff, volunteers and partners are chronicled not only in the Impact Report, but through inspiring stories of serving families during a pandemic.
Learn more about our impact!
Download recent Impact Reports:
RMHC NEO continues to move forward toward our mission, to enhance the healthcare experience for families and children through comfort, care and supportive services.
We hope you will make a difference with us, whether through volunteering, giving, participating in events, or spreading the word about our programs and services.