26 Jun

Any Distance is a Lifetime Away

The Wagner Family Foundation is making its inaugural gift to Ronald McDonald House Charities of Northeast Ohio, Inc.

For one month, starting June 27, every gift made to the Family Meal program will be matched, up to $10,000.

Find out why.
Even a short distance is a lifetime away when you need to be there.
Gary Wagner and Liz Barbour-Wagner never imagined needing to be closer to a hospital than their suburban Cleveland home. Gary knew about the Ronald McDonald House of Cleveland because his firm managed its endowment and sponsored the Annual Pro-Am Golf Tournament—but never envisioned using its services.
When their twins were born prematurely at 26 weeks, all that changed.
At 1 lb. 7 oz. and 2 lbs. 6 oz., babies Adeline Rose and William Henry (Hank) needed the specialized critical care of Cleveland Clinic Children's Neonatal Intensive Care Unit (NICU). For four months, life-threatening issues and high-risk care decisions were the norm for the Barbour-Wagner family.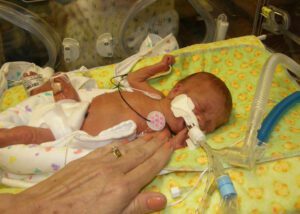 The Ronald McDonald Family Room was there when and where they needed it, having opened earlier that year. "Many times we were not sure the twins would make it," Liz shares. "The nurses needed to be able to get one of us at a moment's notice. Being in the Family Room right down the hall, I felt safe."
Being in the Family Room right down the hall, I felt safe.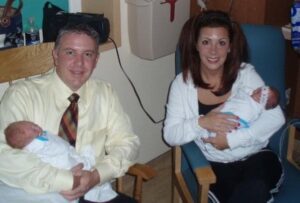 It was a turbulent time. "We were juggling a lot…being at the hospital, working, and caring for our two-year-old Grace. The Family Room made it so much easier. I could work because there was internet connectivity there and a quiet environment," says Gary.
Liz adds, "Remember, it was 2008, before smart phones and texting. I typed my weekly email update to family and friends on the Family Room computer."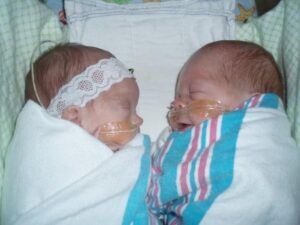 "We used the Family Room every day," Liz continues. "Gary and I traded off being home with Grace and at the Clinic with the twins.
There were kind, caring staff and volunteers there, and other families who understood what we were going through.
Plus, so important, there was coffee and food. I remember how grateful I was for it, even if it was just a peanut butter and jelly sandwich." Big sister Grace would sometimes visit too, and she could just be a kid in the playroom.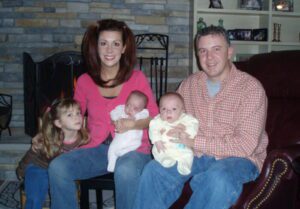 Finally in the fall of 2008, the twins were able to go home from the hospital—one on September 15, the other on October 1.
The family was all together under one roof for the first time.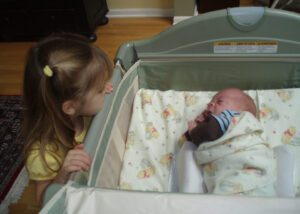 Adeline and Hank flourished, and Grace assumed her role as the big sister.
After a few months, Liz brought them back to visit the NICU, their home during their early months.
We walked into the NICU, the twins in their double stroller, and the staff who cared for them broke down and cried.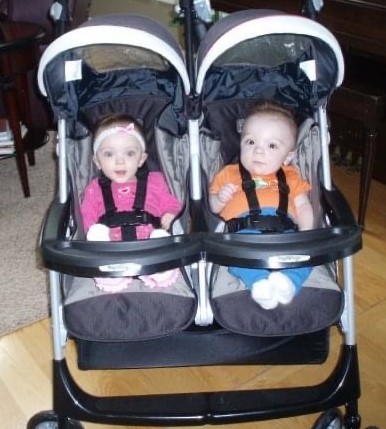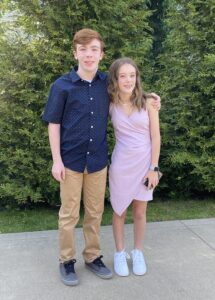 Adeline and Hank are now 14-year-old, healthy teenagers. "They just finished 7th grade with straight A's and honor roll distinctions," boasts proud father Gary.
"Part of the reason for establishing the foundation was to help them understand the importance of giving back. What better charity to support than one that helped us personally?"
Gary also stressed the importance of choosing a solid charity that provides a direct service to families. "Having managed the endowment at Carnegie Investment Counsel, I know the organization uses donations in a prudent and transparent fashion."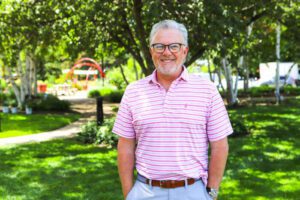 Carnegie Investment Counsel employees have also volunteered at the House making meals, and have been eager to return, according to Gary.
The firm regularly sponsors the Annual Ronald McDonald House Pro-Am. 2022 marks the 17th year Gary has golfed in the tournament.
Gary and Liz hope that sharing their personal story will inspire others to support RMHC Northeast Ohio. "We didn't know we would need this," says Liz. "But the NICU saved our twins, and the Ronald McDonald Family Room helped to save us."
The NICU saved our twins, and the Ronald McDonald Family Room helped to save us.
Thanks to the Wagner Family Foundation, each gift made from June 27-July 27 will be matched, up to $10,000.
Your gift will support our expanded Family Meal program, now providing boxed lunches and hot meal service to families when and where they need it—including the Ronald McDonald House programs in Akron and Cleveland, Family Room programs at Cleveland Clinic Children's, Cleveland Clinic Fairview Hospital, MetroHealth Medical Center and UH Rainbow Babies and Children's.