*Group Volunteer Activities are Temporarily Suspended*
Health and well-being have always come first at the Ronald McDonald House. That's why, as a precautionary measure to reduce the risk of COVID-19, all group volunteer activities are temporarily suspended.
We still need your support.
Volunteer groups help make the House a home, providing meals, entertainment and activities. In 2019, groups provided 588 meals for our families at our Cleveland House alone. In 2020, even with the suspension of meal groups, our Akron and Cleveland Houses served over 50,000 individual meals–meals that our families would not have been able to safely get on their own. Simply put, we could not give our families this level of service without your generosity and commitment.
We can't wait to see you back at the House. Until then, please consider a monetary donation to help provide a family meal.
Thank you for your kindness and understanding.
Akron House Group Volunteer Opportunities: Temporarily Suspended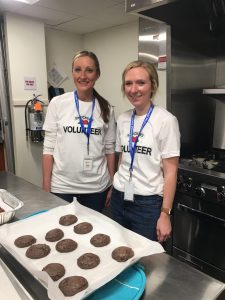 At our Akron Ronald McDonald House, volunteer groups are a tremendous help with many of our larger projects. Groups can be from 4-6 people at one time with projects around 2-hours in duration. If the group is new to the House we spend the first portion of the visit with a tour of our House and information about our mission and history. This allows the group members to better understand exactly how their volunteer work helps our families.
Group projects are based around cleaning, stocking, organizing and baking. Projects may include washing walls and woodwork throughout the House, sweeping the patio and entrance areas, sweeping & mopping hard floors, baking to build up our cookie stock and/or processing pantry item donations.
For more information about group volunteer opportunities, please contact our Akron House Volunteer Manager, Jenny Fowler, at jfowler@rmhcneo.org or 330.253.5400
Cleveland House Group Volunteer Opportunities: Temporarily Suspended
At our Cleveland Ronald McDonald House, we welcome the energy of groups. Volunteer groups are a tremendous help in maintaining this large house and adding touches that make it feel like home.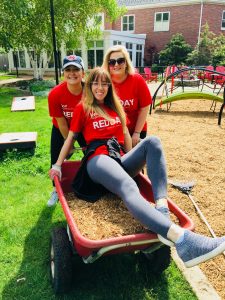 When we are able to safely welcome groups into the House, they contribute in many ways, including:
Meal preparation and serving
Entertainment and family activities
Gardening and yard work
Impact Days (For corporate groups 20-30 people in size; includes chores and meal prep.)
Volunteers must be at least 13 years of age (with adult supervision). For groups under the age of 13, we recommend wish list drives or our pull tab program.