Volunteer groups help make the House a home, providing meals, entertainment and activities. In 2020, even with the suspension of meal groups, our Akron and Cleveland House programs served over 50,000 individual meals–meals that our families would not have been able to safely get on their own.
While the pandemic forced us to temporarily suspend volunteer activity, our groups were never far, contributing financially, sending supplies and catering meals. Simply put, we could not give our families this level of service without your generosity and commitment. If you are able, we are still in need of monetary donations to help provide meals to our families.
We're excited to welcome volunteer groups back, on a limited basis, into our Akron House program!
Group volunteer activities at our Cleveland House are suspended at this time.
Akron House Group Volunteer Opportunities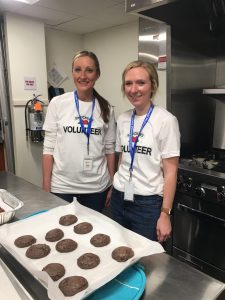 We're excited to welcome volunteer groups back into our Akron House!*
We are in need of:
Groups of up to four adults to provide and prepare dinners for families staying at the House.
Two-person teams each Wednesday morning to provide and pack lunches for delivery to families at Akron Children's Hospital.
For more information, please contact our Akron House Volunteer Manager, Jenny Fowler, at jfowler@rmhcneo.org or 330.253.5400
* For the continued safety of our guests, volunteers and staff, we've implemented new guidelines, including COVID-19 protocols, which must be followed at all times.
Cleveland House Group Volunteer Opportunities – Temporarily Suspended

Family Meal Program and Boxed Lunches
The meals we serve at our Cleveland House remove a huge financial burden from our families, and take away the stress of having to figure out what, when and where to eat in an unfamiliar place. This is more important than ever, enabling families with medically fragile children to limit their exposure to COVID-19.
Now, in addition to providing daily meals for our Ronald McDonald House guests, we are preparing fresh and nutritious boxed lunches in our House kitchen and delivering them to families at our four hospital-based Family Room programs.
We can't wait to see our groups back at the House. Until then, contributions to our meal program are greatly appreciated. Thank you for your support!
For more information, please contact our Cleveland House Group Partnership Manager, Scott Lovasz at slovasz@RMHCneo.org.
I want to let you know how grateful my husband and I are for the Boxed Lunch program… We have a child with cancer who is on a long inpatient stay… We also have two children at home and a baby due to arrive mid-September… Being able to quickly step away to grab lunch without a long walk, a long line, or a large bill is a blessing. Thank you so much for feeding us while we support our son through his treatment."
Donate Here to Support our Meal Program