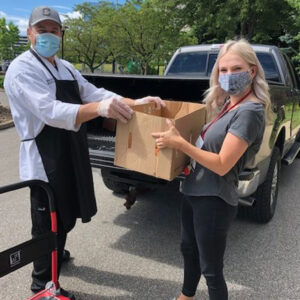 Volunteer groups help make the House a home, providing meals, entertainment and activities. In 2021, even with COVID-19 limitations, we served 38,604 safely-prepared lunches and dinners, daily continental breakfast and 24/7 self-serve snacks and beverages. In 2022, the number of lunches and dinners we served topped 59,000, and the need continues to grow.
With ever-changing circumstances, your contributions of financial support, supplies and catered meals have been critical to our family meal program. Simply put, we could not give our families this level of service without your generosity and commitment. If you are able, we are still in need of monetary donations to help provide meals to our families.
We're excited to welcome volunteer groups back, with new guidelines, into our Akron and Cleveland House programs!
Akron House Group Volunteer Opportunities*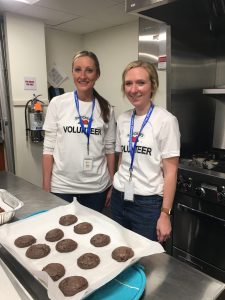 We are in need of:
Groups of two to six adults to provide and prepare dinners for families staying at the House.
Two-person teams each Tuesday and Thursday morning to provide and pack lunches for delivery to families at Akron Children's Hospital.
Groups of up to twelve adults to pack breakfast bags for Mahoning Valley Hospital.
For more information, please contact Amelia Tritt at atritt@rmhcneo.org or 234-226-7009
* For the continued safety of our guests, volunteers and staff, we've implemented new guidelines, including COVID-19 protocols, which must be followed at all times.
Cleveland House Group Volunteer Opportunities

Family Meal Program: Come Cook With Us!
In our Cleveland House kitchen, we prepare fresh and nutritious meals and snacks for families at our House and four hospital-based Family Rooms programs. These meals remove a huge financial burden from our families and take away the stress of having to figure out what, when and where to eat in an unfamiliar place.
Volunteer groups are needed to help provide these meals–all you have to do is show up, ready to cook! Our staff will have all the ingredients and equipment ready for you when you arrive. You'll receive an orientation, and we'll work with you throughout your experience to safely prepare and assemble your meal.
Ready to make a difference with us? Submit your group application now! 
For more information, check out our guidelines or email us at groupsCLE@RMHCneo.org.
I want to let you know how grateful my husband and I are for the Boxed Lunch program… We have a child with cancer who is on a long inpatient stay… We also have two children at home and a baby due to arrive mid-September… Being able to quickly step away to grab lunch without a long walk, a long line, or a large bill is a blessing. Thank you so much for feeding us while we support our son through his treatment."
New Kitchen at Cleveland Ronald McDonald House
House and Garden: Help Keep Our House Beautiful!
Like any house, our Cleveland Ronald McDonald House needs constant upkeep, but with over 1,300 families each year, our needs are multiplied!
Our Cleveland Ronald McDonald House has many indoor spaces for families to gather, enjoy activities, and bond with others in similar situations. It also sits on several acres of beautiful lawns and gardens, with relaxation and recreation features that have made our grounds a cherished place for parents and patients alike.
Volunteer groups are needed to help maintain the beauty of our House! Groups participate in outdoor activities such as gardening, painting, organizing, and mulching. Indoor activities include cleaning, sanitizing, preparing rooms, and organizing.
Ready to make a difference with us? Submit your group application now! 
For more information, check out our guidelines or email us at groupsCLE@RMHCneo.org.
Donate Here to Support our Meal Program