*Onboarding of In-person Volunteers is Temporarily Suspended*
Health and well-being have always come first at RMHC Northeast Ohio. That's why, as a precautionary measure to reduce the risk of spreading COVID-19, most individual volunteer shifts have been temporarily suspended. We are not currently able to orient new volunteers to work in person at our House, Family Room or STAR Center programs. Only virtual opportunities, such as working with our online program, www.RedTreehouse.org, or at-home activities are currently possible.
How to Help Today
More than 450 individual volunteers typically help make our Houses feel like homes and provide much-needed operational support to our programs. We are now functioning with staff filling most of those roles. Simply put, this creates an added burden on an already tight budget. If you are able to consider a monetary donation during this time, your generosity would be greatly appreciated.
Make a Donation
We can't wait until we are once again able to welcome new volunteers in our programs. Until then, thank you for your kindness and understanding. An overview of our volunteer programs is below.
Web-Based Volunteers
RedTreehouse.org, the Ronald McDonald Family Resource Link
RedTreehouse.org, serving Ohio, Pennsylvania and West Virginia, features a comprehensive directory of organizations, tools and events searchable by condition/issue, service, age range and location. We also produce helpful guides and free webinars on a variety of topics. Tech savvy individuals are needed to help curate and enter listings into the RedTreehouse.org database. Knowledge of social services and systems of care would be helpful in this role.
For more information about volunteering with RedTreehouse.org, contact Julie Wilson at jwilson@rmhcneo.org or 216-229-5757 x1140.
Akron-Area Volunteers
Akron Ronald McDonald House
When full to capacity, our Akron House is supported by approximately 150 dedicated, caring and committed volunteers who cover the House on a monthly rotating schedule.
Meet & Greet Sessions (currently suspended)
We look forward to resuming our Meet & Greet Sessions, for which interested volunteers are invited to the House for a tour and full description of our volunteer opportunities. These sessions last 45-60 minutes and are held on different days and times.
Core House Volunteers
Core House volunteers spend the majority of their time in our shared common areas cleaning, stocking, baking, prepping meals, washing towels and just being present in our House in the event families need assistance. We utilize our volunteers to process our food donations and keep our main pantry supplies labeled and rotated.
Meal Prep Volunteers
When our House is full, we provide a freshly-prepared dinner serving approximately 75-90 residents each evening. These meals are prepared in-House by our talented volunteer cooks. Meal prep shifts are 1 P.M. – 5 P.M. and are scheduled well in advance. Ingredients are provided at the House through donated goods and grocery store gift cards. Volunteer cooks sometimes provide special ingredients so that they can prepare their personal favorites for our families.
For more information about individual volunteer opportunities at our Akron House, please contact our Akron House Volunteer Manager, Jenny Fowler, at jfowler@rmhcneo.org or 330-253-5400
Cleveland-Area Volunteers
When our Cleveland-area programs are at full capacity, over 300 individual volunteers serve thousands of families at our 55-family House, four hospital Family Rooms and outpatient STAR Center.
We look forward to the day we can welcome volunteers, new and old, back into all of our programs. Although we are currently unable to accept new applications, volunteers typically serve in the following roles and locations.
Cleveland Ronald McDonald House
Front Desk
Energetic, customer-service focused individuals are needed to answer phones, greet and assist guests and give tours as well as pitch in to keep the House tidy, clean the kitchen, prep guest rooms, do laundry, or sort donations.
Kitchen
It takes several volunteers per day help keep our kitchen clean and stocked, prepare and store food, greet guests, and welcome and assist volunteer meal groups.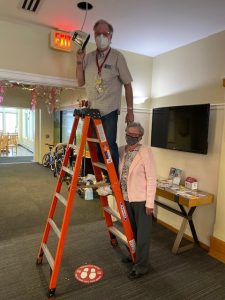 Maintenance
Active maintenance volunteers tackle a variety of odd jobs, including deep cleaning projects, and lend a hand where needed.
Grounds (seasonal)
We always need semi-experienced gardeners with weekday availability to help maintain our beautifully landscaped gardens. These positions are perfect for snow-birds!
Other
We also use volunteers for special events, pet therapy (must be certified by Therapy Dogs International or Bright and Beautiful Therapy Dogs), music therapy, and speaking engagements.
Questions about our Cleveland Ronald McDonald House volunteer opportunities?
Email Hannah Driscoll, Cleveland House Volunteer Coordinator.
Hospital-Based Programs
Ronald McDonald Family Room Host
Our four Family Room programs at area hospitals offer families of pediatric patients a comfortable space to rest and recharge just steps away from their child's treatment room. Volunteers welcome and register visitors, keep the area tidy, restock snacks and beverages in the kitchenette and enforce hospital policies. In addition to our volunteer application process, each hospital has its own requirements.
Family Room programs are located at Cleveland Clinic Children's, Cleveland Clinic Fairview, MetroHealth Medical Center and University Hospitals Rainbow Babies and Children's Hospital.
STAR Center Assistant
The Ronald McDonald STAR Center, located at Cleveland Clinic Children's Outpatient Center, provides a fun and welcoming learning environment for children while their siblings receive outpatient care. Volunteers assist families using Outpatient Center resources, and help Lead Teachers with mini-lessons for children.
Questions about our Hospital-Based Program volunteer opportunities?
Email Hannah Driscoll, Cleveland House Volunteer Coordinator.
Please note: Additional steps are required for volunteers placed at hospital locations beyond the requirements and application process outlined below for Cleveland-Area volunteers.
Cleveland-Area Volunteer Requirements & Application Process
Most regular volunteers serve one three-hour or four-hour shift per week during our normal operating hours, 9 am–9 pm daily. We prefer that new volunteers commit to a minimum of six months of service.
Our comprehensive volunteer application process includes: application, criminal background check, interview, tour of the House, and reference verification. Additional steps are required for volunteers placed at hospital locations.
Volunteers are required to be 18 years of age or older.
We do not offer volunteer positions to fulfill court-ordered community service hours.
Questions about our Cleveland-area volunteer opportunities?
Email Hannah Driscoll, House Volunteer Coordinator.