Close to 400 individual volunteers help make our programs feel like home and provide much-needed operational support in eight Northeast Ohio locations.
We're excited to welcome new volunteers at our Akron and Cleveland House locations, Hospital-Based programs in the Cleveland and Mahoning Valley areas, and for virtual opportunities with our online program, www.RedTreehouse.org!
An overview of our volunteer programs is below.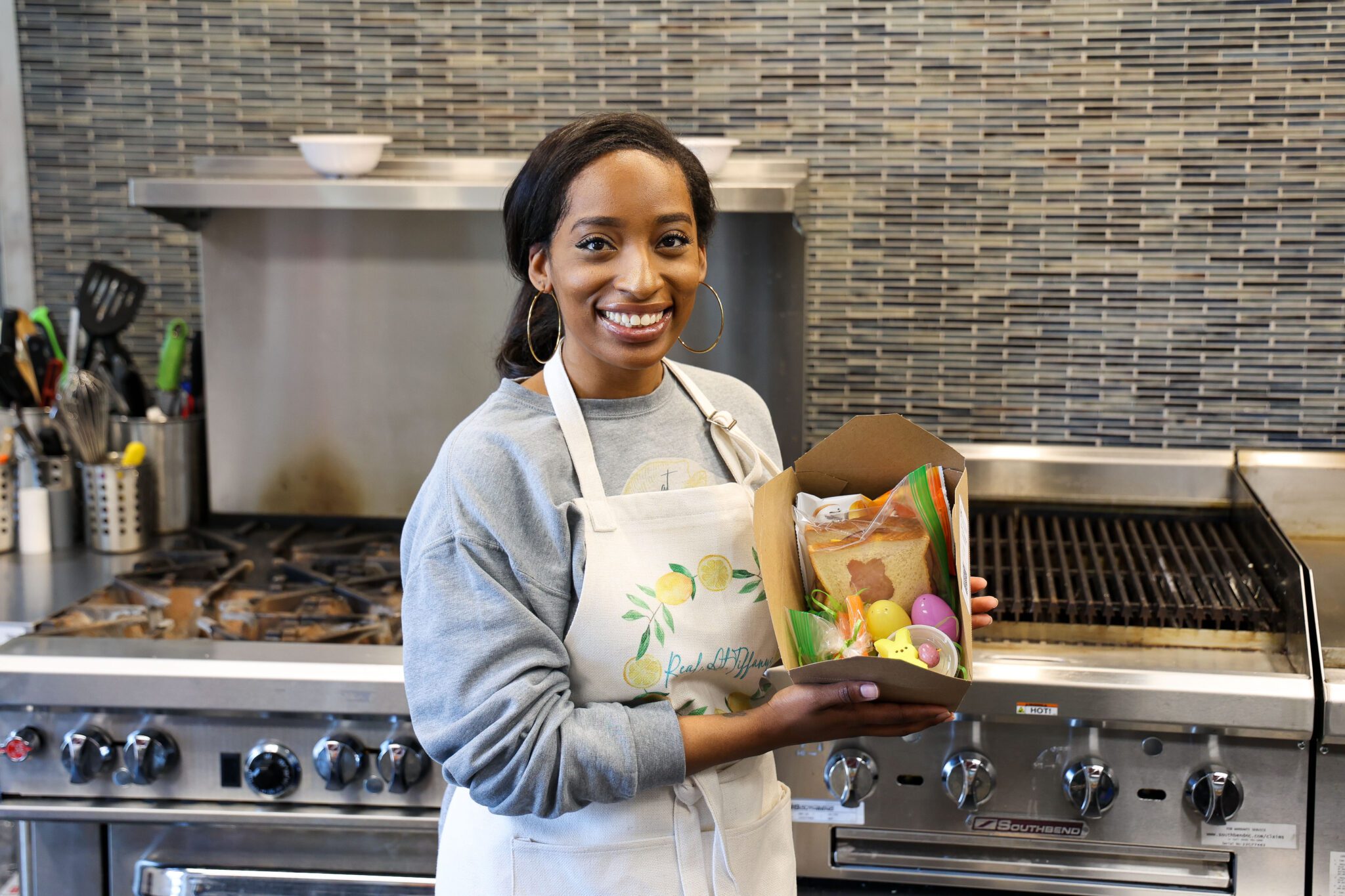 Individual Volunteer Requirements & Application Process
Volunteer shifts vary by program and role. We prefer that new volunteers commit to a minimum of three months of service.
Our comprehensive volunteer application process includes: application, criminal background check, interview/tour, and reference verification. Additional steps are required for volunteers placed at hospital locations. For the Akron House Program, the process starts with a Meet and Greet Session.
Individual volunteers are required to be 18 years of age or older. For those younger than 18, please see our Youth Opportunities.
Individual volunteers are required to show proof of COVID-19 vaccination.
We do not offer volunteer positions to fulfill court-ordered community service hours.
Akron Ronald McDonald House Program
When full to capacity, our Akron House is supported by approximately 200 dedicated, caring and committed volunteers who cover the House on a monthly rotating schedule.
Meet & Greet Sessions
Interested potential volunteers are invited to the House for a tour and full description of our volunteer opportunities. These sessions last 90 minutes and are held on different days and times. If you are interested in learning more about volunteering at our Akron House, contact Rickie Magyarics, at rmagyarics@rmhcneo.org or 330-253-5400 x1002 to schedule.
Schedule a Meet & Greet Session
Volunteer roles include: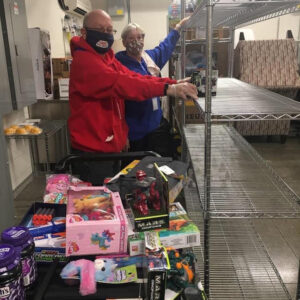 Core House Volunteers
Core House volunteers spend the majority of their time in our shared common areas cleaning, stocking, baking, prepping meals, washing towels and just being present in our House in the event families need assistance. We utilize our volunteers to process our donations and keep our donation rooms stocked and rotated.
Meal Prep Volunteers
When our House is full, we provide a freshly-prepared dinner serving approximately 75-90 residents each evening. These meals are prepared in-House by our talented volunteer cooks. Meal prep shifts are 2 P.M. – 5 P.M. and are scheduled well in advance. Ingredients are provided at the House through donated goods and grocery store gift cards. Volunteer cooks sometimes provide special ingredients so that they can prepare their personal favorites for our families.
For more information about individual volunteer opportunities at our Akron House, please contact Rickie Magyarics, at rmagyarics@rmhcneo.org or 330-253-5400 x1002.
Cleveland Ronald McDonald House Program
When our 53-family Cleveland House is at full capacity, over 200 individual volunteers with regular shifts support families staying with us.
Volunteer roles include:
House Support
The House needs volunteers to help support our families by answering phone calls, giving tours, greeting families, providing attentive, compassionate service, and other tasks. The House Support Volunteer role requires many "soft skills," sometimes used under stressful circumstances. It is an active, hospitality focused position.
Family Meal Support
At the House, the kitchen is at the heart of our mission. Each day, we provide continental breakfast, boxed lunches, snacks, and dinner to our House guests. We also provide our Hospital-Based Programs with meals and snacks for families who visit those locations. The House kitchen runs like a restaurant would, and we need volunteers to help with cleaning, restocking, inventory and of course, cooking.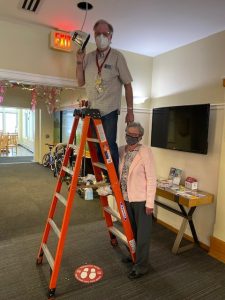 Maintenance
Like any house, the Cleveland Ronald McDonald House needs constant upkeep, cleaning, repair, and organization.  Considering that our House welcomes over 1,300 families each year, our maintenance needs are multiplied! Are you handy around the house? Do you enjoy completing minor repair projects and keeping busy? We need active maintenance volunteers who are willing to tackle a variety of odd jobs and lend a hand where needed.
Transportation/Van Driver
Dedicated and reliable drivers are needed to support our families. Whether it's delivering meals to local hospitals or helping with shuttle service for guests, our transportation volunteers make a difference. Tasks include use of House vehicle(s) for pickups and deliveries, e.g. meals/supplies to our Family Room programs. Use of House vehicle to transport families to pre-determined destinations. Loading and unloading delivery vehicles. Must be available Monday – Friday during the day.
Grounds and Gardening (seasonal)
The House sits on several acres – surrounded by beautiful trees, shrubs, flowers, herb gardens, decorative grasses, and lawns. Outdoor features also include a koi pond, bird houses, children's play areas, a treehouse, and contemplative walkway. The grounds of the House have become a place where parents and patients can find peace within walking distance of the hospital. We are dependent upon volunteer help to maintain our outdoor spaces. Volunteers of all skill levels are welcome to contribute; and we are fortunate to have several experienced volunteers to offer guidance. These positions are perfect for snow-birds!
Other
We also use volunteers for special events, pet therapy (must be certified), music therapy, and speaking engagements.
For more information about individual volunteer opportunities at our Cleveland House, please contact our Cleveland House Volunteer Manager, Hannah Driscoll, at hdriscoll@rmhcneo.org or 216.229.5757 x1102.
Hospital-Based Programs
Volunteer roles include:
Ronald McDonald Family Room Host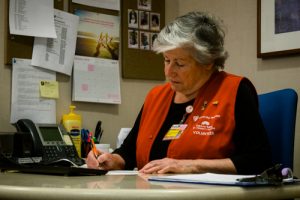 Our four Family Room programs at area hospitals offer families of pediatric patients a comfortable space to rest and recharge just steps away from their child's treatment room. Volunteers welcome and register visitors, keep the area tidy, restock snacks and beverages in the kitchenette and enforce hospital policies.
Family Room programs are located at Cleveland Clinic Children's, Cleveland Clinic Fairview, MetroHealth Medical Center and University Hospitals Rainbow Babies & Children's.
STAR Center Assistant
The Ronald McDonald STAR Center, located at Cleveland Clinic Children's Outpatient Center, provides a fun and welcoming learning environment for children while their siblings receive outpatient care. Volunteers assist families using Outpatient Center resources, and help Lead Teachers with mini-lessons for children.
STAR Corner Assistant
The Ronald McDonald STAR Corner, located at Akron Children's Hospital – Beeghly Campus (Boardman, OH), provides a fun, welcoming, educational environment for children while their sibling or caregiver receives medical/wellness care. Volunteers work with children on age-appropriate lessons involving healthy habits, positive peer socialization and school readiness skills.
Please note: In addition to our volunteer application process, each hospital location has its own requirements.
For more information about individual volunteer opportunities at our Hospital-Based Programs, please contact our Hospital-Based Programs Operations Coordinator, Rachel Schaen, at rschaen@rmhcneo.org or 216.229.5757 x1136.
RedTreehouse.org, the Ronald McDonald Family Resource Link
Virtual volunteer opportunity:
RedTreehouse.org features a comprehensive directory of organizations and tools searchable by condition/issue, service, age range and location. We also produce helpful guides on a variety of topics. Tech savvy individuals are needed to help curate and enter listings into the RedTreehouse.org database. Knowledge of social services and systems of care would be helpful in this role.
For more information about virtual volunteer opportunities for RedTreehouse.org, please contact our Cleveland House Volunteer Coordinator, Hannah Driscoll, at hdriscoll@rmhcneo.org or 216.229.5757 x1102.