2022: A Sense of Normalcy
One of the key benefits for the families we serve is a sense of normalcy during an extremely stressful time. Whether with a place to call home, a warm meal, or a backyard fire and singalong, we have continued to provide comfort and support even while reimagining and reinventing how to do so.
In 2022, we at RMHC Northeast Ohio were grateful to feel our own sense of normalcy slowly reemerge. As the year progressed, volunteer activity increased, and groups helped at both our House locations. Family Room programs could once again serve extended families, and people were able to congregate in our beautiful indoor House spaces—the sound of children's laughter once again filled the halls!
There were more than 28,000 families served by RMHC NEO programs in 2022, as we slowly inched toward pre-pandemic levels. Our Ronald McDonald House programs in Akron and Cleveland welcomed 948 families for 18,462 nights of rest. At the hospitals, we served 3,743 families who visited Family Room locations 21,126 times.
Though still limited, the Care Mobile provided dental care and health education to 1,040 families. Our online Ronald McDonald Family Resource Link, RedTreehouse.org, was used by 17,391 unique visitors to find the support they needed. The last program to reopen, the Ronald McDonald STAR Center served 136 families in just a few weeks of operation.
2022 AT-A-GLANCE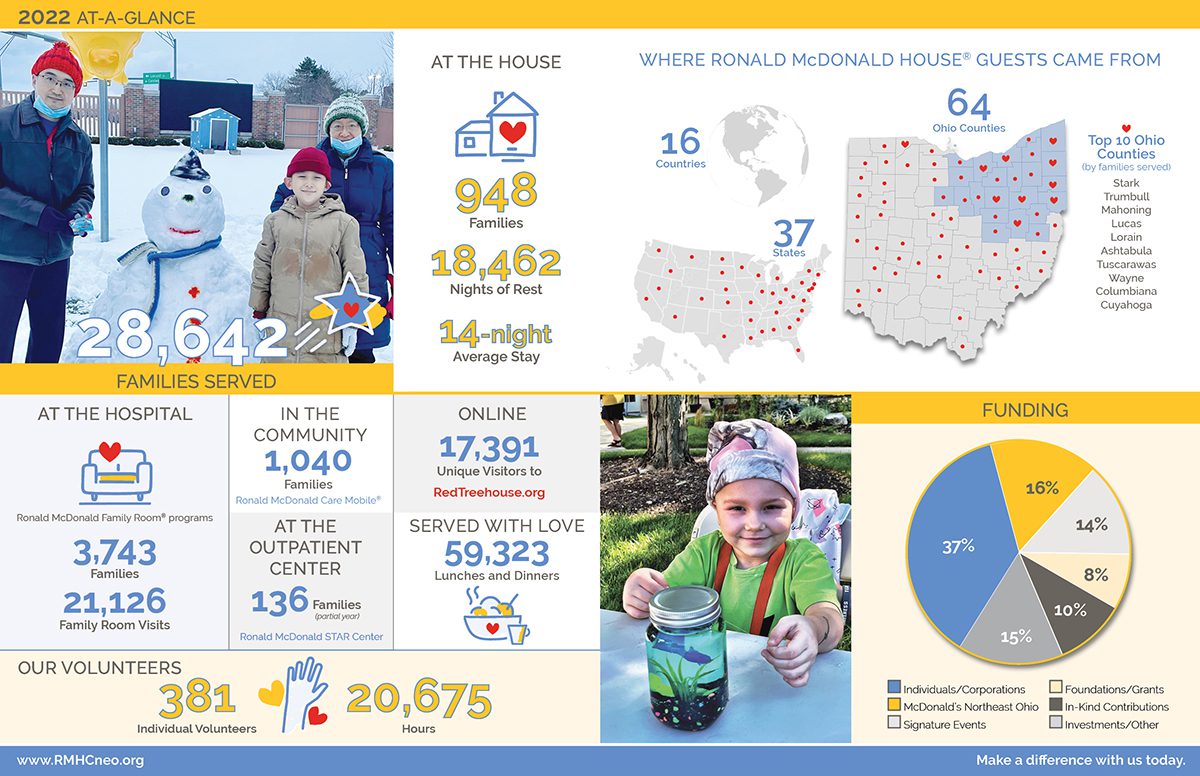 In our 2022 Impact Report, you'll find interesting stats and facts about our programs and initiatives, and you'll also meet some of the families behind those numbers–their stories illustrate the true impact of our services.
NEW MEAL INITIATIVES AND A NEW KITCHEN
As the year marked a return to some of our previous normalcy, we continued to implement new ways to support families with ill or injured children, while increasing our capacity to respond to future need.
Our Family Meal Program, Served with Love, provided more than 59,000 meals. The number of boxed lunches sent to our four Family Room programs and Akron Children's Hospital nearly doubled. A new breakfast bag initiative at hospitals in the Mahoning Valley provides families with items to sustain themselves during the day.
In November, we cut the ribbon on a new Cleveland House Kitchen, which allowed for an immediate increase in the number of meals we serve and will accommodate increases for years to come.
The resilience and innovation of our families, staff, volunteers and partners are chronicled not only in the Impact Report, but through inspiring stories of serving families during a pandemic.
Learn more about our impact!
Download recent Impact Reports: