Sponsor a room at a House for a family in need.
If it wasn't for the love and charity that makes this place what it is, we would have been forced to sleep in the car.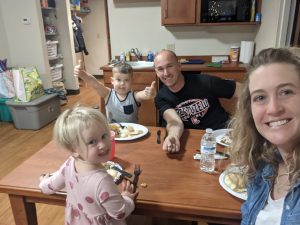 The Room Sponsorship Program provides the opportunity for individuals, corporations and foundations to play a vital support role in the lives of families whose children are receiving treatment at area medical centers.
Families staying at our 53-family Cleveland or 42-family Akron Ronald McDonald House experience a sense of comfort, normalcy, comradery and compassion that helps them remain strong for their children. Spacious private rooms, beautiful common areas, daily meals and other amenities ease their stress and financial burdens, allowing them to focus on their children's care.
What Your Room Sponsorship Means to Families
It costs more than $150 per night to provide our services to each family, but we rely on community support and donations to cover these costs.
Your room sponsorship helps ensure that we can continue to serve all families who need us.
Inside this room, we got to focus on our daughter's health. We didn't have to worry about meals. We felt safe.
Annual Guest Room Sponsorships
You can sponsor a room at the Akron or Cleveland Ronald McDonald House for $5,000 per year. In addition to the knowledge that you are helping to provide crucial support to families during difficult times, your gift is commemorated with:
Signage / plaque at the entrance to your sponsored room, featuring your individual/company/foundation name
Recognition on the website of Ronald McDonald House Charities of Northeast Ohio
Quarterly correspondence illustrating the impact of your gift
To discuss this opportunity, please contact Aristea Tzouloufis, Chief Development Officer, at 330-253-5400 x1109 or atzouloufis@rmhcneo.org.
Learn about Permanent Room Sponsorship and Naming Opportunities.
Thank You to Our Generous Annual Guest Room Sponsors
Akron House
Alpha Delta Pi – University of Akron Chapter
Buckeye Corrugated
Scott and Judi Dalton, in honor of Lee West
Incept Corporation
John Hinds (3)
Joyfully celebrating Amelia Hartong (2)
Kent Elastomer Products Inc, Corporate Office
Kent Elastomer Products Inc, Winesburg Facility
Kent Elastomer Products Inc, Mogadore Facility
Kent Elastomer Products Inc, Kent Facility
Don & Sandy Leeper
Tom and Ana Maria Locke – McDonald's Operators
The Dicky Pride Family, in loving honor of Mike Clegg
The Sisler-McFawn Foundation
Mike and Julie Pasternak
Crew's Crusaders
Chrissy Todd, in celebration of Wyatt and Alexis Todd born at 25 weeks
Sal Baglieri, in memory of Andrea Rose Teodosio
Cleveland House

The Ahuja Foundation
Heidi and Peter Augustin, Akeelah's Room
Alpha Delta Pi–Ashland University
Alpha Delta Pi–Mount Union
Anonymous
Art Form Nurseries
Mr. & Mrs. Michael and Patty Artino
AT&T Pioneers
The Catanzarite Family Foundation, in memory of Angel Bea
The Edward F. Crawford Foundation (3)
Kathryn Kobs, in memory of Glen, Helen, & Jimmy Daniels
Lois and Larry Davis Family (2)
The George H. Deuble Foundation
In honor of Barb Fisher, devoted volunteer for 40 years & all volunteers at RMHC NEO
Angie Fowler's Room – Char & Chuck Fowler
Steve and Debbie Gratto
The Steve and Maureen Harris Family Charitable Fund
HMT Associates
Ruth Fenske, in memory of Emily and Jim Hodgman
Jeremy Cares
Kaiden Kares
Mel and Lola Kamins
Richard & Barbara Kolezynski, in gratitude for: Michael, Grace, Ellie, Andrew & Anna
Julia Malinky
The McCartney Family
Dennis and Elizabeth Nash Family
Carter Nedley Foundation
Mort and Iris November
PMA Group, in honor of Anderson Dubose
Rocket Companies
The Dicky Pride Family
Ileen Tepper, honoring Ryan, Ian, Abby, Matthew, Jared, & Eli
The Colin Scheetz Family Foundation (2)
The Sherwin Williams Company/The Sherwin Williams Women's Club
Super Heroes to Kids in Ohio
Tapper Charitable Foundation
Truline Industries, Inc. (2)
USG Foundation, in honor of the Maher family
ViewPoint Wealth Partners
Hylant
Barry Feldman, Bee Doo
Doug and Charlotte McGregor
Casey and Bryan Crossan, in memory of Conner Crossan
Permanent Guest Room Sponsorship
For individuals, groups, corporations or foundations desiring to make a significant gift to support families on an ongoing basis, Permanent Room Sponsorships are available. Your $50,000 donation allows families staying in your room to know they have your steadfast support in their greatest hours of need. Families for years to come will feel it every time they see your plaque outside their door. In addition to the benefits of annual room sponsorship, permanent room sponsors are recognized with a larger, permanent plaque and honored in selected events.
Naming opportunities for common area and selected programs are available for those who wish to leave a legacy.
To discuss options, please contact:
Thank You to Our Generous Permanent Guest Room Sponsors
Akron House
Alpha Delta Pi Sorority – University of Akron Chapter
Dee & Rennick Andreoli
The Blickle Family
Bridgestone Invitational and Northeast Ohio Golf Charities
In Memory of Ruth A. Collins From Her Daughter Anne Collins
In Memory of Jane Fawcett Comunale
William H. and Rebecca D. Considine
In appreciation of my care and recovery so many years ago…Judi Dalton
Dillard's of Summit Mall
FirstEnergy Foundation
The Walter Henry Freygang Foundation
Always in our memories, forever in our hearts, Jay and Richard Heidman, Alyssa Apostolakis
Huntington Akron Foundation
Junior Women's Civic Club Founded 1946
Longbridge Wealth Advisors Jack Elgin & Neven Zelich
Mr. & Mrs. Philip H. Maynard
The Maynard Family Foundation
M.G. O'Neil Foundation
Don & Cindy Misheff
The Robert O. & Annamae Orr Family Foundation
Portage Lakes Polar Bear Jump
Roger Read in loving memory of Judy Read
In Honor of the RMHA Staff and the Families They Serve
Ronald McDonald House Charities® of Northeastern Ohio, Inc.
Ronald McDonald House Charities® of Northeastern Ohio, Inc. Celebrating our 30th anniversary & legacy 1987-2017
Rubber City and Zip City McDonald's Restaurants
Showers Family Foundation
The Timken Foundation of Canton
The Wildflower Foundation
In Honor of John W. Zachardy
Cleveland House
B. Charles and Jay G. Ames Foundation
The Andrews Foundation
AT&T Pioneers, Ohio Chapter 2
Eaton Corporation
Sam J. Frankino Foundation
The Hershey Foundation
Doug, Judy, James & Jeff Hubbard
La-Z-Boy
Lincoln Electric Foundation
Mont Granite
PRADCO
Ronald McDonald House Charities of Northeastern Ohio, Inc.
Ronald McDonald House Volunteers
The Sherwin Williams Company
Gil and Lori Van Bokkelen
Wells Fargo
Marian Doershuk, in memory of Carl Doershuk
Dawna Hagan
In memory of Helen Sprague
Iris November, in memory of Debra Ann November