In 2022, you helped us collect more than 22.550 pounds of aluminum tabs, generating approximately $10,000 in recycling revenue.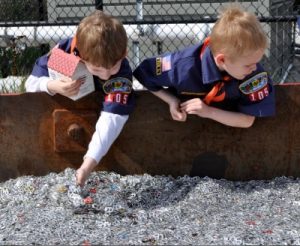 How does it work?
We collect aluminum pull tabs from any container (soda pop, soup, pet food, etc.) and work with a local recycler to turn those tabs into money for our Family Fund. This fund helps support the families that stay at RMHC NEO by providing meals and items for families, assistance in emergencies, and giving families special moments – like small gifts for children if they have a birthday while at the House.
Why do you only collect the tab?
Tabs are easier to store than whole cans in our limited space. Also, tabs are more sanitary than the entire can, which is important in keeping our facility clean and healthy for our guests.
How much do you receive for the tabs?
After the tabs are collected, our local recycler in the Cleveland and Akron regions picks up the tabs and brings them to their processing facility, where they are weighed to determine their value (values can vary significantly). The recycling center then sends us a check for the total value.
How do I collect the tabs?
Get creative by making an eye-popping collection container for your pull tabs. Use boxes, coffee cans or large plastic jars with wide openings (no milk jugs please!). We can also provide you with a corrugated cardboard miniature house, generously donated by Jamestown Container Companies.
How do I promote the program at my school, company, or organization?
RMHCNEO has posters, flyers, and labels available from groups who would like to recruit their members to collect pull tabs. Fill out the form below with quantities you would like of these items, and we will mail them to you.
Where do I bring my tabs once I've collected them?
We recommend bringing them directly to either of our Ronald McDonald House locations in Cleveland and Akron. Donations are accepted daily between the hours of 9 am-8 pm.
Akron Ronald McDonald House: 141 West State St., Akron, OH 44302
Cleveland Ronald McDonald House: 10415 Euclid Ave., Cleveland, OH 44106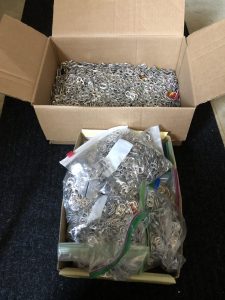 Or recycle them and send the proceeds to us. We recommend:
Ferrous Processing & Trading Co.
8550 Aetna Road
Cleveland Ohio 44105
Metalico Annaco
943 Hazel St.
Akron, OH 44305
Join Morgan Stock's Collect-a-Million Club.
Named in honor of our friend and avid pull tab collector, Morgan Stock, the Collect-a-Million Club recognizes individuals and organizations who pull a million for RMHC NEO. Join the Club and receive a member certificate. Reach one million tabs (1 lb. = 1,000 tabs), and your name will be recognized on our Collect-a-Million plaque at the House!