Meals Help Save Families Time & Meal Costs
It's not just nourishing our bodies, it's nourishing our souls. The day's over and you can just relax with your family like you do at home.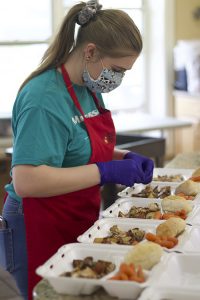 Family meals, Served with Love, help keep families strong so they can focus on what matters most – their children. The meals we serve alleviate the stress of figuring out what, when and where to eat, and eliminate a huge financial burden during an extremely stressful time. In 2022 we served:
38,927 lunches and dinners, daily continental breakfast and 24/7 self-serve fresh fruit, snacks and beverages for guests staying at our two Ronald McDonald House locations.
15,860 boxed lunches at our four hospital Family Room programs and Akron Children's Hospital.
2,264 breakfast bags to families at Akron Children's hospital Beeghly Campus and Mercy Health-St. Elizabeth's NICU.
With a continuing increase in need and greater capacity in our new Cleveland House kitchen, we're on track to far exceed those numbers in 2023.
Community Support
None of this would be possible without our community's generosity. We rely on volunteer groups to help prepare meals at our House kitchens, as well as:
Monetary contributions to purchase ingredients and supplies
In-kind donation of meal ingredients from McDonald's suppliers, local dairies, fruit and vegetable distributors and more
Wish List donations of gift cards, individually packaged snacks and supplies
Catered meals* donated by individuals, groups, companies and restaurants
This all adds up to a big savings for the meal program budget so we can keep feeding families, helping them stay strong for their children. 
Before the Ronald McDonald House, we were spending more than $50 each day on food. We would not have been able to do that for another week or two and it became a major concern. The food here is fantastic and it has removed a significant burden during an already difficult time. I hope you know what a difference this makes for us as we care for our son.
New Kitchen at Cleveland Ronald McDonald House
How You Can Help
Donate via the online form below. *To arrange a catered meal or in-kind donation, please contact:
You may designate your gift to the Akron or Cleveland House program. You may also mail a check to either location.