Ways for Kids to Make a Difference
We love kids at the Ronald McDonald House! We are always inspired at the many requests we get from young people and youth organizations who want to help support our mission. The minimum age for direct volunteering in our programs ranges from 13 – 18 depending on the type of service, but there are many ways for kids of all ages to make a difference with us! Below are just some of the ways young people can contribute.
Pull Tabs
Did you know that 1 lb. = approximately 1,000 tabs? Collecting pull tabs is a fun and easy way to help our families! We take tabs from any container (pet food, soda pop, soup, etc.) and recycle them for money that pays for things families need. Recruit your friends, family, school or group and join the fun!   Click here for information on collecting, how to get started, and even an application to join the Morgan Stock Collect-a-Million Club!
Wish List Drives
It takes a lot of stuff to care for our many families and we go through a lot of household items every day! Wish Lists help us get the things we need right when we need them. By hosting a Wish List drive, you can make a direct impact by providing much-needed basic items like snacks, cleaning supplies, pantry items and more. Be creative in involving your school, group, friends and family to donate these much-needed supplies. Click here to find out more and see what's on the list today.
Other Creative Fundraisers
Do you like to bake, make lemonade, or have a special talent to share? Bake sales, lemonade stands and selling crafts are just a few examples of ways kids have raised funds for the House. One girl even did cartwheels! Or, if you are interested in arranging something on a larger scale, recruit an adult and check out our information on hosting a fundraising event.
Youth Volunteerism (Temporarily Suspended)
Akron House Student Volunteer Team (Temporarily Suspended)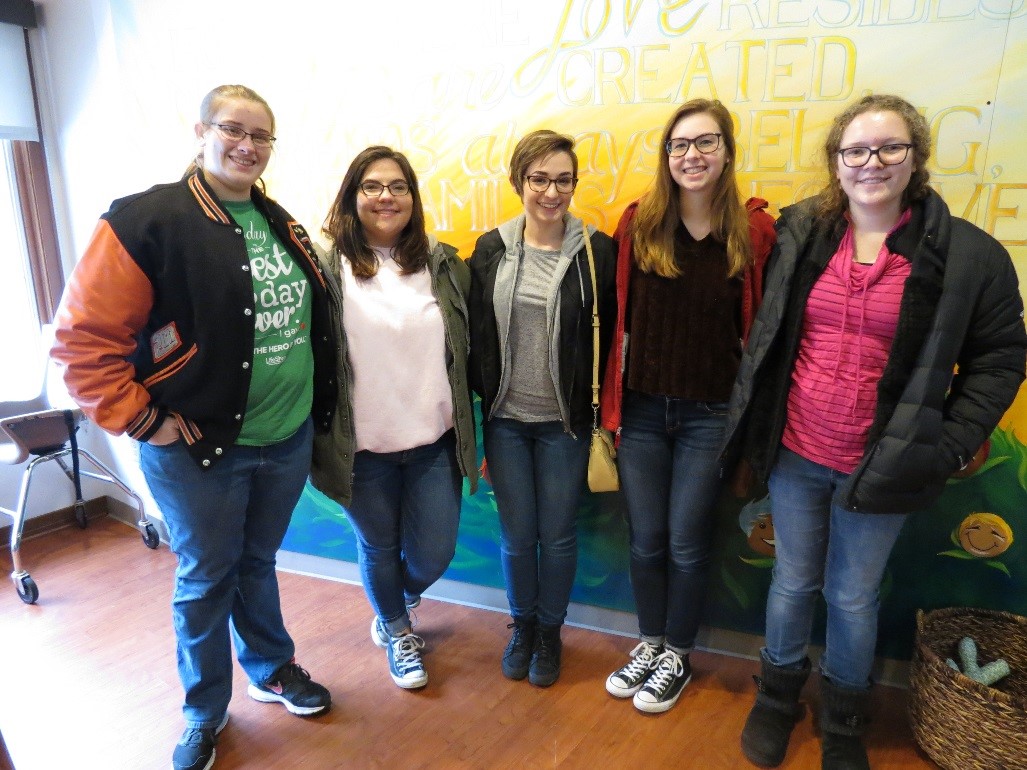 Students from 16 – 18 years old sign up for available shifts after school or on weekends. Most shifts are 1 – 1.5 hours, and are usually based around cleaning, stocking or organizing. Students can sign up for shifts ranging from once per week to once per month, and work independently to complete assigned tasks.
Your time spent volunteering can often be used to meet school, church or after school program volunteer requirements. Please confirm with your advisor prior to volunteering to make sure our experience applies to your requirement.
Applications are currently suspended For more information, or other ways to become involved at our Akron House, contact Rickie Magyarics at rmagyarics@rmhcneo.org or 330-253-5400 x1002.
Cleveland House Youth Volunteer Groups (Temporarily Suspended)
Group participants must be at least 16 years of age and accompanied by an adult, who will be responsible for supervising. Group projects include cleaning, special chores and yard work.
Cleveland Hospital-Based Youth Volunteers (Temporarily Suspended)
A limited number of opportunities are available for high school seniors at least 17 years of age. For more information, contact Alisa Powell, Director of Hospital-Based Programs, at apowell@rmhcneo.org or 216-229-5757 x1118.