Your gift today helps families like the Kozloviches.
"When you walk through those doors, the House and the people inside it make you feel like somehow, it's going to be okay." – Mickey Kozlovich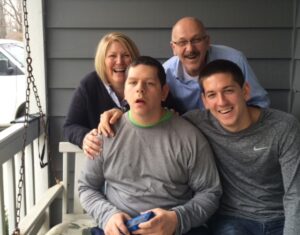 When the Kozlovich family from Mentor, Ohio learned that their son Cody would need heart surgery following his birth, their world turned upside down. It was at this point that Mickey and Tia learned about the Ronald McDonald House. What began as a 9-day stay has become 30 years of connection to the House and giving back. Thank you for helping families like theirs stay together near the care their children need.
"To have a place to go, to get away from those beeps and alarms to recharge your body, your mind, that's what the Ronald McDonald House means." – Mickey
What Does it Cost to Stay?
It costs about $100 per day for a family to stay at one of our Ronald McDonald House programs. We ask for a $20 nightly donation, but more than half of families who stay are unable to contribute.
We never turn a family away due to inability to give.
Donate by Check
To donate by check, please make it payable to Ronald McDonald House Charities of Northeast Ohio, Inc.
Mail to:
RMHC Northeast Ohio
10415 Euclid Ave.
Cleveland, OH 44106