Your gift today helps families like the Miesses,
each and every day.
"I worried more about my mom not having somewhere to sleep or a
warm meal than I worried about myself when I was in the hospital.
At Ronald McDonald House, we didn't have to worry about that. I knew
she'd come back here, and she had a family." – Morgan Miesse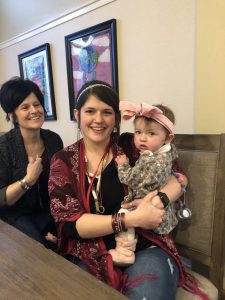 When 15-year-old Morgan Miesse suffered a stroke, medical conditions lying dormant were triggered. She and her mother, Audrey, traveled hours from their home over the next three years for treatment. The Ronald McDonald House became their second home, alleviating many burdens. Seven years later, Morgan had a daughter of her own who inherited one of her medical conditions. The Ronald McDonald House was there for them again. Three generations now visit, needing the same care and support. 
"We couldn't do it without your support. Insurance doesn't give you the gas to put in your car, it doesn't give you meals, it doesn't pay parking. It doesn't take care." – Audrey Miesse
What Does it Cost to Stay?
It costs about $100 per day for a family to stay at one of our Ronald McDonald House programs. We ask for a $20 nightly donation, but more than half of families who stay are unable to contribute.
We never turn a family away due to inability to pay.
Donate by Check
To donate by check, please make it payable to Ronald McDonald House Charities of Northeast Ohio, Inc.
Mail to:
RMHC Northeast Ohio
10415 Euclid Ave.
Cleveland, OH 44106