02 Jul

Ronald McDonald Hospitality Suite at MetroHealth Medical Center Opens with Ribbon-Cutting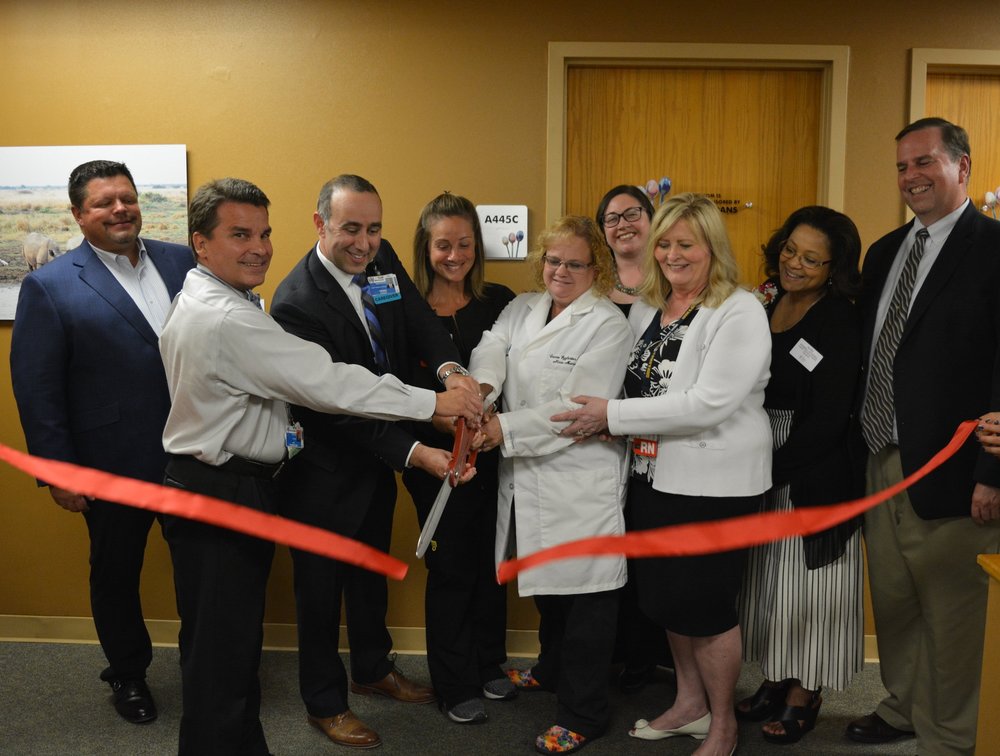 Keith Strauss, President of Sales Concepts and President of the Ronald McDonald House® of Cleveland, Inc. (RMH) Board of Trustees; Dr. David Roberts, Director of Pediatric Hospitalists, MetroHealth; Craig Richmond, SVP and CFO of the MetroHealth System and Member of the RMH Board of Trustees; Rebecca Bartnicki, Nurse Manager, PICU & Inpatient Pediatrics; Connie Eggleston, Nurse Manager, Neonatal ICU; Jessica Chupnick, Manager, Child Life and Education; Lydia Bert, Center Director, Women's and Children; Alisa Powell-Stovall, Director of Community Program Operations at RMH; Craig Wilson, Executive Director of RMH; Bria Heifetz, MetroHealth Hospitality Suite Coordinator (not pictured).
In many cases, families of pediatric patients are simply unable to leave the hospital, sometimes for days at a time. The newly-opened Ronald McDonald Hospitality Suite at MetroHealth Medical Center provides crucial overnight respite for families of the most vulnerable patients, just steps from their child's treatment room. Located directly across from the PICU, the Suite features four private rooms spacious enough to accommodate up to three guests. Each is equipped with a bed, recliner, writing desk and mini-fridge. Guests are provided with a keepsake quilt and welcome basket filled with snacks, water, writing tablet, tissues and resource information. The rooms share a quiet lounge area with a TV, comfortable La-Z-Boy furniture, vending machines, private restroom and shower stocked with fresh towels and toiletry items.
The Hospitality Suite opened on June 19 with a Ribbon-Cutting ceremony and tour. Speakers included RMH Cleveland Executive Director Craig Wilson, Board President Keith Strauss, Dr. David Roberts, MetroHealth Director of Pediatric Hospitalists, and MetroHealth President and CEO Dr. Akram Boutros. Mr. Strauss spoke of his personal connection to the Ronald McDonald House, which began years ago when he was a guest of RMH St. Louis following the premature birth of his son.
Dr. Boutros talked about the growth and focus of the MetroHealth System and stressed the importance of supporting families as an integral part of caring for children undergoing medical treatment. Dr. Roberts echoed this, citing evidence that reducing barriers to parents' active participation in their child's care is a medical necessity. Attendees from room sponsors Quicken Loans and RSM, along with 45 other guests enjoyed cake and snacks, while learning how their generous contributions support the Ronald McDonald House mission of Keeping Families Close®.
The Ronald McDonald Hospitality Suite at MetroHealth is the first in Ohio, and is expected to serve hundreds of people per year, free of charge. Just down the hall from the Hospitality Suite is the Ronald McDonald Family Room, which has hosted over 96,000 visitors since opening in 2010. Open from 9am – 9pm daily, the Family Room is equipped with a lounge area, full kitchenette stocked with snacks and beverages, children's play area, computer with internet access, and other things that bring comfort to families so they can remain strong for their children.
The impact of these programs is best described by families who have used them. One parent whose child underwent heart surgery wrote to us "I truly don't know what we would have done without this Family Room. I never left the hospital for 5 days and visited this room 3x a day, even to just step away for 10 minutes to breath…I am so grateful."
The Family Room was such a wonderful place when we needed a quiet moment, a quick snack or a place to visit with family and friends. We cannot express how grateful we were…the room was truly a respite during a physically and emotionally exhausting time for our family.
In addition to the Hospitality Suite and Family Room at Metro, Ronald McDonald House of Cleveland provides a home-like environment and essential resources and services for up to 55 families per night at our University Circle guesthouse and operates Family Rooms at UH Rainbow Babies and Children's, Cleveland Clinic Children's Hospital and Cleveland Clinic Fairview Hospital. All Hospitality Suite and Family Room Services are offered to families free of charge. For a room at the House, we ask for just a $20/night donation, but never turn away a family for inability to pay. With the help of our generous donors and dedicated volunteer force, we were able to serve over 109,000 individuals in 2017. For more information about our services or how you can become involved, visit our website at https://www.rmhcneo.org or call us at 216-229-5757.