STAR Corner at ACH Beeghly ER
Ronald McDonald STAR Corner
Akron Children's Hospital Beeghly Campus Pediatric Emergency Department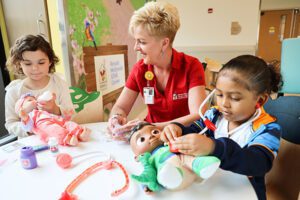 The STAR Corner at Akron Children's Beeghly Campus is available for children ages 3-6 while their siblings are receiving emergency treatment at the facility.
Hours: Monday, Wednesday, Thursday 2 pm – 7 pm (subject to change without notice)
Location: 6505 Market Street, Boardman, OH 44512
Staff Contact: Alisa Powell
Download the STAR Corner Guidelines (PDF) here.
Registration and Consent
This form can be used to request a reservation for up to 3 children. This form is encrypted, so your personal information is safe and confidential. Please read our complete eligibility requirements and STAR Corner guidelines before requesting a reservation.