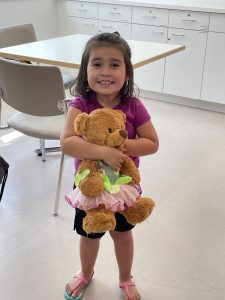 CURRENT HOURS: MONDAY & THURSDAY FROM 9 AM – 6 PM | TUESDAY, WEDNESDAY & FRIDAY FROM 9 AM – 4 PM |
SATURDAY 9 AM – 1 PM
(subject to change without notice)
COVID-19 SAFETY PROTOCOLS AND RESTRICTIONS ARE STRICTLY ENFORCED.
The Ronald McDonald Family Room at Cleveland Clinic Fairview Hospital is located on the fourth floor in Room 152.
Families must register once per month at the Family Room volunteer desk.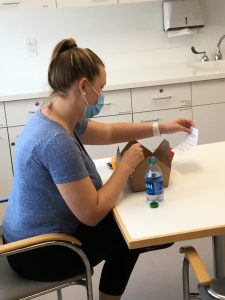 Safety Protocols: subject to change without notice
Family Room occupancy is limited to 4 individuals at any one time
Hands must be sanitized or washed with soap and water upon entering
Face masks must be worn unless while eating or drinking
Social distancing must be maintained
Dine-in and to-go food and drink items are available
Overnight respite rooms remain closed at this time

Amenities Include:
Kitchenette offering snacks and beverages
Wireless internet and computer access
Quiet lounge area to relax, read, or watch TV
Comfortable space for siblings and young visitors
Private restroom and shower (supplies provided)
Respite rooms (currently closed)
Happy Wheels
Happy Wheels, a mobile hospitality cart provided by the Family Room, offers light refreshments and treats to patients and families in pediatric units.
Volunteer Opportunities
We would not be able to operate the Family Room, Happy Wheels carts, or provide special comforts such as family meals without the support of our dedicated volunteers.
To learn more about volunteer opportunities, including becoming a Family Room Host, visit here.
Contact the Family Room
Ronald McDonald Family Room at Cleveland Clinic Fairview Hospital
Fourth Floor, Room 152
18101 Lorain Avenue, Cleveland, OH 44111
216-476-7626
Staff Manager: Chris Bertalan