Family Room at UH Rainbow
Family Room at UH Rainbow
CURRENT HOURS: MONDAY – FRIDAY FROM 9 AM – 6 PM (subject to change without notice)
COVID-19 SAFETY PROTOCOLS ARE STRICTLY ENFORCED.
The Ronald McDonald Family Room at UH Rainbow Babies & Children's is located on the 2nd floor near the PICU.
Families must register once per month at the Family Room volunteer desk.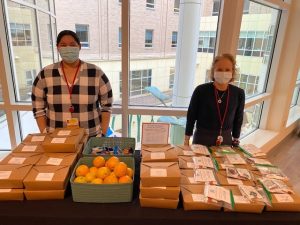 Safety Protocols: subject to change without notice
Face masks must be worn at all times, no exceptions
Amenities
Kitchenette offering snacks and beverages
Wireless internet and computer access
Quiet lounge area to relax, read, or watch TV
Comfortable space for siblings and young visitors
Laundry facility (supplies provided)
Happy Wheels
Happy Wheels, a mobile hospitality cart provided by the Family Room, offers light refreshments and treats to patients and families in PICU, Immunocompromised (Rainbow 2), Rainbow 3, Rainbow 4 – NICU stepdown unit, Rainbow 5, 6 & 7.
Volunteer Opportunities

We would not be able to operate the Family Room, Happy Wheels carts, or provide special comforts such as family meals without the support of our dedicated volunteers.
To learn more about volunteer opportunities, including becoming a Family Room Host, visit here.
Contact the Family Room
Ronald McDonald Family Room at UH Rainbow Babies & Children's Hospital
Rainbow Building, Room 2342
11000 Euclid Avenue, Cleveland, OH 44106
216-844-8488
Staff Manager: Katie Muckle