23 Apr

Delavegas Stay Close to Ryan during Life-enhancing Surgery
My hope is no parents have to use a Ronald McDonald House, but when they do, they will see just how wonderful your work is. The Ronald McDonald House made a very anxious time reasonable.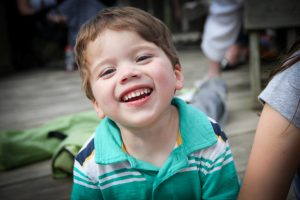 Chris and his wife, Amie, knew something wasn't quite right with Ryan. At age one, he was not developing at the same pace that his big sister, Sadie, had. He wasn't reaching typical milestones like crawling and pulling himself up. Ryan's physical therapist suspected he may have Cerebral Palsy, which his doctors later confirmed.
Despite intensive physical therapy, Ryan's physical progress plateaued, and he began to regress. The Delavegas learned of a doctor in St. Louis who performed a special surgery that might help Ryan. Without the surgery 5-year-old Ryan, who can walk short distances with the assistance of a walker, would eventually be wheelchair-bound.
After Ryan was approved for surgery, Chris and Amie made plans to stay in St. Louis for the five days Ryan would be at St. Louis Children's Hospital. The hotel they found was not ideal; they would be required to drive back and forth each day. When their friend, who works at the Cleveland Ronald McDonald House, found out about their situation, she told them about the Ronald McDonald House in St. Louis, which is a short walk to the hospital. With a little help from Cleveland, the Delavegas received an apartment at the Ronald McDonald House Charities of St. Louis.
I really can't say enough great things about our St. Louis Ronald McDonald House experience. The ability to leave the hospital for a shower in peace, sit and relax, and grab a meal was priceless. The community meals were a great place to vent, learn, and understand from other parents just how challenging and fortunate some have it. You know, I can't remember what I ate yesterday, but I still remember those dinners and the conversations.
And the best news! Since his December surgery, Ryan has made remarkable progress. His muscles and joints are more elastic. He is able to stand on his own and has been taking his first unassisted steps. Despite a long journey ahead of them—four years of physical therapy 10 hours a week—the Delavegas are excited and encouraged that Ryan will someday be walking and jumping.
Chris and Amie are looking forward to helping Ronald McDonald House families in Cleveland. "We so admire what you do for families and appreciate the support the Ronald McDonald House network has given to our family." They are already signed up to volunteer their gift of time to RMH.
Without donors, Ronald McDonald Houses cannot help families be near their children during unsettling times. You ensure that the Ronald McDonald House of Cleveland is ready and able to help these families during their time of greatest need…no matter where they are from. Help us continue to serve our families.