19 Nov

Evan's Bears Leave Lasting Legacy

Many bears. One message of love, kindness and compassion.

This was the message that Evan Burgess brought to the world each day. Whether it was through an interaction with a stranger, or with a friend he'd known for years, Evan always carried a sense of optimism and happiness with him no matter the circumstance or situation.
Evan was born on September 4, 1994 with a heart condition that caused only a portion of his heart to function properly. With the outlook grim, doctors gave Evan only two years to live. Evan's father Chris and his mother Bonnie brought him home from the hospital knowing the challenge ahead, yet unwavering in their optimism that Evan would grow up to lead a fulfilling life. Two years turned into four, four into eight, eight into sixteen, and eventually Evan became a young man beaming with passion and love for life.
However, Evan's heart condition was always looming and led to many medical challenges and long rides to and from hospitals for lab tests. While his heart condition didn't slow him down, it gave Evan and his family the perspective that life is precious and every moment is one to be savored.
His physical heart had always been fragile, but despite its weakness, it was a force of light driving him forward; it was a heart of gold. And this heart was running with love alone.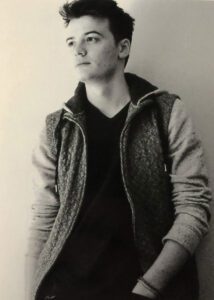 Always moving forward in life, Evan lived in London, Vancouver and Cleveland. Everywhere Evan went he developed close friendships that became like family and helped others see the best in themselves. In one instance, when a friend of Evan's told him that she was considering committing suicide, Evan provided solace by saying "If you've had the worst day of your life, the day is going to end, and it will be tomorrow soon. It doesn't stop what happened, but each day puts some distance between you and that really awful day, it becomes easier." In the words of his friend, "Evan made me feel loved, not alone or as broken. I can't express how much that meant to me." In the short time he was in Cleveland, he fell in love with the city and decided to make it his home. He went on to work at Becky's Bar, where he met his girlfriend, Liz, and made many friends.
Sadly, on the morning of October 17, 2018, Evan passed away from his heart condition. He had just turned 24. During his life, Evan touched the hearts of many children and adults alike, leaving a special mark. He cared deeply for others, including his younger brother, Graham, and his cousins who idolized him.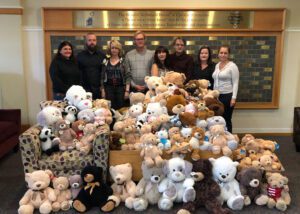 In search of a way to honor Evan's memory, his family and friends started Evan's Bears with the purpose of spreading his love and kindness to children dealing with medical issues. When searching for a place to donate bears to help cement Evan's legacy of love, the family found a welcome home in the arms of children and their families staying at the Ronald McDonald House.
It is fitting that teddy bears should bring love and joy to all of the children in the comfort of the Ronald McDonald House who are facing their own medical challenges.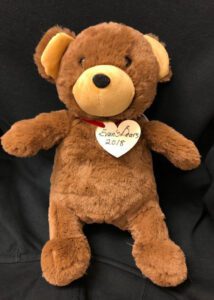 More than 100 bears were collected at Evan's funeral in Cleveland. His family from around the world visited the Ronald McDonald House to donate Evan's Bears to families, proving that even without past connection to the House, a donation of kindness and comfort is always welcome. After their initial donation, bears continued to arrive at the House from people honoring Evan's memory. Evan's family aims to provide an annual donation of Evan's Bears to the Ronald McDonald Houses in Vancouver, London and Cleveland, ensuring that his legacy of love and compassion lives on. Please join us in giving thanks to Evan and his family for spreading joy and happiness to hundreds of children and their families.