09 Jan

A Place to Lay One's Head: New Hospitality Suite to Serve MetroHealth Families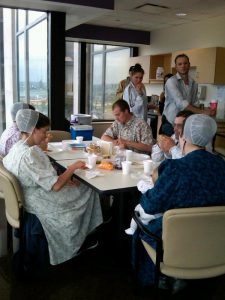 In many cases, families of pediatric patients are unable to leave the hospital, sometimes for many days at a time. The Ronald McDonald Family Room at MetroHealth Medical Center provides these families a place to rest and recharge just steps from their child's treatment room. Open 9 am to 9 pm daily, the Family Room is equipped with a lounge area, full kitchenette stocked with snacks and beverages, children's play area, computer with internet access, and other things that bring comfort to families so they can remain strong for their children.
We are thrilled to announce the upcoming opening of the Ronald McDonald Hospitality Suite at MetroHealth Medical Center, which will provide crucial overnight respite for families of Cleveland's most vulnerable patients. The Suite will feature four private rooms spacious enough to accommodate up to three guests. Each will be equipped with a mini-fridge and welcome basket with snacks, water, writing tablet, tissues, and resource information.
The rooms will share a quiet lounge area with a TV, comfortable La-Z-Boy furniture, vending machines, and a restroom with shower. Fresh linens, towels, and toiletry items will be provided. Guests will continue to have access to the Ronald McDonald Family Room during the day.
The Ronald McDonald Hospitality Suite at MetroHealth is the first in Ohio, and is expected to serve hundreds of people per year, free-of-charge. Since our Family Room at Cleveland Clinic Fairview Hospital expanded in September to include two respite rooms, it has already hosted more 125 overnight guests.
One of the first to benefit from this service was a new mother, who described her experience as "…a blessing. It was so helpful and comforting to be able to be with [my son] during the day and overnight for his feedings and kangaroo care. I can only imagine the added stress had I had to leave the hospital while he was still in the NICU."
It was one of the hardest weeks of our lives, and using the room certainly meant the world to us. We can never begin to express how grateful we were…
Since opening in 2010, the Ronald McDonald Family Room at MetroHealth has served 96,000+ visitors, a number that is growing as services expand and medical treatments advance. Helping these individuals is made possible by the kindness of dedicated volunteers, who have donated more than 27,700 hours of their time. In order to continue our mission of keeping families together, we are seeking several more Family Room and Hospitality Suite volunteers.
Please consider donating your time to help our families stay close to their children's hospital bed.