01 Dec

The Fritz Family and Baby Mason
Everything was normal. And then it wasn't. You never know when you're going to need the Ronald McDonald House yourself.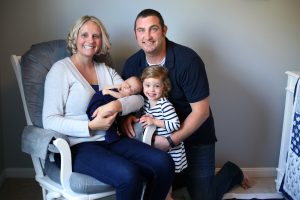 Beth Fritz was 38 weeks into her pregnancy, and everything was normal. When Beth started having contractions, her husband, Ty, drove them to their suburban hospital. Beth assumed she would be checked and sent home. But an ultrasound discovered that their unborn son was scoring low on movement, so the doctor ordered an emergency C-section.
Baby Mason was very sick. He had lost a tremendous amount of blood in the uterus, causing severe anemia. He was immediately moved by ambulance to a downtown hospital with a state-of-the-art NICU. Ty went with Mason in his incubator, and Beth followed later. The doctors weren't sure Mason was going to make it.
Beth was placed in a tiny room at the hospital, while Ty camped out on an uncomfortable couch. After nearly a week in the hospital, doctors found a bleed on Mason's brain. They took him off the machine to try to stop the bleeding…and he survived. They were relieved, but both parents were exhausted and missing their two-year-old daughter, Addalyn, who was not allowed to visit her parents and new baby brother in the NICU.
About this time, a social worker suggested that Beth and Ty stay at the Ronald McDonald House of Cleveland. This made a big difference. "Everyone was so nice. It meant one less meal to buy, one less parking fee," says Beth. "It was the most normal thing we could have at that time."
The best part was that Addalyn and her grandparents could also stay at the House, allowing the family to be together for the month Mason stayed in the hospital. Addalyn could have a quiet breakfast with grandma and then play with the toys or on the playground with other kids staying at the House. And when Beth and Ty needed a break from the hospital, they could take the shuttle back to the House, play with Addalyn, take a nap…just be mom and dad.
When you have the kind of support provided by the Ronald McDonald House of Cleveland, Mason is being helped indirectly. His parents were more comfortable and better rested staying at the House. They could be with Mason's sister as a family. All of this meant they could take better care of Mason
Today Mason is a happy, thriving baby. The Fritz Family, like so many like them, did everything they could to help Mason. And the Ronald McDonald House was there for them during their time of need.
Without donors, we wouldn't be able to provide comfort to families when they're facing scary, life-threatening situations. They ensure that the Ronald McDonald House of Cleveland is ready and able to help these families during their time of greatest need.
Donate Today