17 Mar

Glen Stout: Kindness, Contributions and Canine Comfort
Ronald McDonald House Charities of Northeast Ohio is lucky to have the support of hundreds of volunteers, many of whom help the House in a variety of ways. Whether they donate meals that feed our guests in Cleveland and Akron, their time by volunteering on site, financially, or through the furry, fun and comforting hugs of their trained therapy pets, we cherish the generosity of each one of our volunteers.
There are few, however, that bring more joy to the families we serve than Stanley Guido, Nosy Rosey, and Giuseppe Luca, who are the tiny canine family members of Glen and Tracy Stout. Glen and Tracy began volunteering at RMHC NEO with their dogs more than six years ago, shortly after becoming certified to interact with guests and patients at local area hospitals. Pre-COVID, the Stouts, along with Stanley, Giuseppe, and Rosey, visited the Ronald McDonald House programs in Akron and Cleveland to share their love with guests from all over the world.
We have met children and their families from all over the globe when they visit the world-class healthcare we have in Cleveland.
Looking for new ways to continue to give back and brighten the days of House guests despite the pandemic, Glen now sets up virtual calls with guests at RMHC NEO so that they can keep seeing their furry friends. Through these efforts to go above and beyond over the past year, Glen has been recognized on Fox 8's segment Cleveland's Own, presented by Kaulig Charitable Giving Programs, as well as by American Land Title Association (ALTA), where Glen is a state agency manager. Through the ALTA Good Deeds Foundation, RMHC NEO was recently awarded a $6,000 grant which would not have been made possible without Glen's nomination.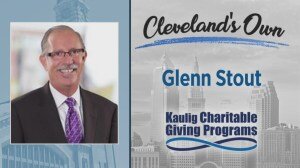 The Stout family's generosity does not end there. Glen has raised thousands of dollars serving as a Shoe Guy for our Wine Women & Shoes event every year since 2016. Watch Glen (and canine companion, of course) dance for the virtual broadcast in 2020. Stanley Guido's dance moves also came in handy in March of 2020 when McDonald's and Ronald McDonald House Charities created the #dotheShamrockShakeRMHC challenge. A St. Patrick's Day inspired Shamrock Shake party was awarded to one lucky winner in each market for sharing the best "shake" dance on social media. Glen and Stanley Guido's dance ended the competition with a unanimous victory. Due to the pandemic, the parties were cancelled, yet the funds were still distributed to the winners. Rather than accepting the prize, Glen donated the $1,000 winnings back to the House to help support our families through the uncertain times.
This House…. I can't stop talking about it. To be able to give something back with a 14-and-a-half-pound Yorkie-poo and 12-pound poodle (and now Giuseppe Luca!) is great. This is what life is all about.
Whether they stand on two legs or four, we look forward to the day when we are able to welcome back all of the amazing volunteers who help make the House a home for our families. Until then, please join us in thanking Glen, Tracy, Stanley Guido, Nosy Rosey, and Giuseppe Luca for their unwavering support.