29 Dec

Loving Logan: Special Delivery in a Pandemic

The day a family welcomes their child into the world is one of the most special, meaningful moments they can experience. This year has presented all of us with a level of difficulty and uncertainty never before experienced by our generation. Julie Wilson, RedTreehouse.org Coordinator, shares her story of the birth of her daughter in the midst of a pandemic, along with unforeseen tribulations and revelations that life brought her way.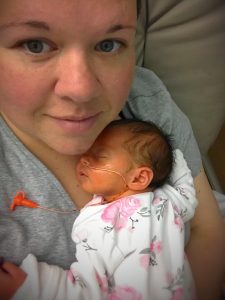 When I joined the team at Ronald McDonald House of Cleveland (now RMHC Northeast Ohio) in 2019, I was excited to tour the facilities managed by an organization I had long admired. I was surprised to learn that the reach of the organization stretched far beyond the more familiar houses in Cleveland and Akron, and directly into the region's major hospitals. The Ronald McDonald Family Room programs provide dedicated spaces at the hospitals for families to gather, rest and find resources while their children undergo medical treatment.
I was especially excited to tour the Family Room at Cleveland Clinic Fairview Hospital since I was carrying a little secret with me at the time. I was about 12 weeks pregnant with my first child—with plans to deliver at Fairview, just one floor away from that very room. I looked forward to visiting the staff and volunteers with my new baby in my arms and sharing some of those early joyful moments with a few of my colleagues.
The family rooms have kitchens, comfortable chairs, laundry facilities, and some even have beds and showers, because sometimes going to a hotel, restaurant, making a quick trip home, or even just going to the cafeteria downstairs, is too great of a distance for a parent who needs to be close to their child.
I never imagined being one of those parents, much like I never imagined delivering a baby during a pandemic. But after breaking my leg in a freak accident in week 33 of my pregnancy, all of my plans went out the window. My blood pressure became dangerously high as a result of the pain I experienced from the fracture, and it became necessary for me to deliver early for my own safety and for the safety of my unborn child. And so, on May 9, 2020, in the middle of a pandemic and a late spring snowstorm, my daughter, Logan Clare, came screaming into this world—five and a half weeks early.
After a few brief moments together in the delivery room, Logan was taken to the Neonatal Intensive Care Unit (NICU) where she'd remain for the first two weeks of her life. At 4lb 15oz, by NICU standards she was a pretty easy case. She just needed a little extra time to grow and catch up on the milestones that most new babies have time to achieve during their last few weeks on the inside. But I was released from the hospital after just three days, which meant that I had leave without my new baby in my arms.
I delivered a baby with a broken leg and without a support person; my husband had previously passed away following a battle with cancer, and COVID-19 related restrictions prevented me from bringing my sister into town to join me in the delivery room. And yet, I am in no way exaggerating when I say that the most challenging part of the experience was leaving my daughter behind as I left the hospital each day.
During our stay, the Ronald McDonald Family Room and all other common spaces in the hospital were closed to ensure everyone's safety as we worked together to slow the spread of the Coronavirus. I was able to visit with Logan during specific blocks of time, but had to leave the building in between visits. My heart broke a little more each time we parted.
I also ached for the families around me who had been and would be continuing to endure this experience for days, weeks and even months beyond the day when I would finally take my little girl home. Each and every one of us could have benefitted from the comforts of the Ronald McDonald Family Room if we'd delivered our children at any other time. Knowing that we were missing that support was difficult.
Families are meant to be together. In a year where social distancing has become a necessary part of our daily lives, that has become even more apparent to me.
Looking back on the memories of holidays passed is both a blessing and a hardship. Knowing what we are missing out on this year makes the experience of going without it all the more difficult. As our Ronald McDonald Family Room programs begin to reopen with many precautions in place, I take comfort in knowing that the next new mom whose delivery doesn't quite go as planned will have a space to seek respite in the midst of unexpected challenges.
Ronald McDonald Family Rooms offer families a place to rest and recharge while at the hospital. Click the button below to learn more about our Family Room programs* and how we're able to serve families.
*Family Room hours of operation are subject to change without notice due to COVID-19.