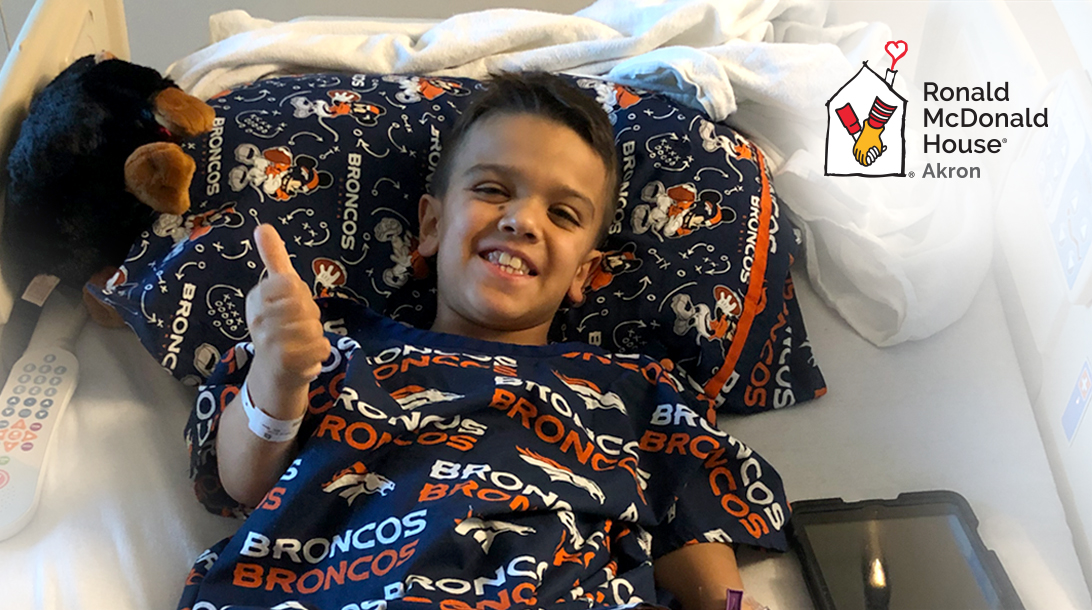 18 Jun

Jackson's Story
It was eye-opening – such a gift to have during a stressful time.
When Lisa Ingram heard about Dr. Weiner at the Skeletal Dysplasia Center at Akron Children's Hospital, she knew that his expertise would be the perfect fit for her son Jackson's needs. Eight-year-old Jackson has achondroplasia, a form of dwarfism, and needed a bilateral partial fibulectomy where they removed a piece of his fibula and added eight plates to his leg. They chose this surgery at the recommendation of other families with children who have dwarfism to help manage chronic pain and help straighten out his bowing legs.
"We're a military family and are used to being able to pick up and go, said Lisa. "It was an easy decision to make the trip from Colorado to come to Akron Children's Hospital to receive treatment."
The one thing they didn't know was where they were going to stay so far away from their home.
"We had stayed at a different Ronald McDonald House when our other child was born a preemie and had to spend time in the NICU, so when a nurse told me about the beautiful Ronald McDonald House facility in Akron, I was happy staying there was an option," said Lisa. "It was so close – the proximity couldn't have been better, and it was much more supportive than a hotel."
The Ingrams spent a whirlwind five nights at the Ronald McDonald House – "We flew in on a Thursday night, had appointments all day Friday, the surgery on Monday, and Jackson was released and we stayed one more night on Tuesday," said Lisa.
"It was really great," Lisa shared. "Jackson wants to go back for a vacation. His siblings were jealous." Jackson made friends with other kids, read books, went swimming at the local YMCA, and the Ingrams even had the chance to visit the Pro Football Hall of Fame in Canton.
A few months after the surgery, Jackson is still moving a little slowly, but doing really well. He is walking without a walker and slowly but surely his legs are straightening out.
"It was eye-opening, and such a gift to have during a stressful time," Lisa says of Ronald McDonald House Akron. "Jackson knows that symbol now and it means a lot to him. It was life-changing and I really do appreciate it."
The Ronald McDonald House Akron has been helping thousands of families like the Ingrams stay close to their children during hospital stays since 1985. Donations fund 98% of the operating costs of the House and it's important for the community to rally and help other families in need.
"Pay it forward in some sort of way," suggested Lisa. Her family realized how important it was to give back to the community and now they are always willing to put in a donation.
No matter how big or small, a donation will help this House run and help other families like the Ingrams. Find out how you can help here.
Other ways you can help: