14 Oct

Lights, Camera, Action!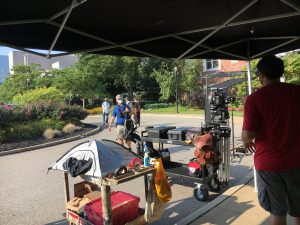 Hollywood came to Cleveland during the last week of August! Ronald McDonald House Charities of Northeast Ohio was chosen as one of only two RMHC Chapters to serve as sites for filming of Global's new marketing creative and end-of-year campaign.
Why us? Not only because RMHC NEO could showcase all three core RMHC programs (House, Family Room and Care Mobile), but we also had a diverse pool of past guest families who were excited to recreate their experiences to support our mission.
The families' love for RMHC NEO is reflected in their dedication during the filming and the pieces produced for this campaign; the team was able to create authentic, meaningful touchpoints that highlight the incredible role we play in the lives of ill and injured children and their families.
This campaign is focused on building understanding, familiarity, and trust in our brand. When we embarked on this project, we did so with the knowledge that though many consumers express awareness of RMHC, they often do not fully understand how we serve our mission, nor the total impact of our programs. To address this gap in understanding, we created a campaign focused on increasing awareness of what we do and how we support children and their families.
Two months of preparation, interviewing, scheduling and implementation of strict COVID protocols for everyone involved culminated in a whirlwind weekend: two 14-hour days of shooting during the sunny but STEAMY last weekend of August. The Cleveland House literally became a movie set—and our staff, volunteers, families, and pet therapy partners were the stars of the show!
Thanks so much for thinking about our family for the shoot. Our family enjoyed it and it was an amazing experience!
We even had music from a Cleveland Institute of Music string quartet! The group had played pieces from the Nutcracker during a previous holiday visit, inspiring guest Josefine to dance. They were happy to return and help her relive the experience; though the music didn't make these campaign pieces, it helped set the scene for her jubilant film debut.
Not only did our partners at University Hospitals Rainbow Babies & Children's bring the Ronald McDonald Care Mobile to the Cleveland House and participate in the filming, they worked with us, RMHC and the producers to film at the Ronald McDonald Family Room at Rainbow.
Thanks to this incredible collaboration, we (and Chapters around the globe) now have pieces to share that include our Family Room and Care Mobile programs.
Throughout the pieces, you'll see many familiar faces and spaces (and even photos of our pet therapy partners with guests)! Our colleagues and families at Ronald McDonald House Charities of Atlanta are also featured.
The new campaign includes films of various lengths (:60, :30, :15 and :06 seconds); banner advertisements; a radio spot; and three :15 second social media videos focusing on each of the RMHC core programs. The campaign will be shared through RMHC and media channels. You can look for it on Spotify, Hulu, YouTube, the Washington Post, TikTok and Instagram.
From now through November 29, the campaign focuses on deepening understanding of our programs and support for families, then will turn toward garnering donations to support our mission. While the campaign will end on December 31, the photos, videos and messaging will continue to be used by Chapters throughout the world for the next few years.
Watch all the pieces to spot our volunteers, families and RMHC NEO spaces!
Helping Families Feel at Home—Even When They Can't Be