11 May

Our House is Their Home: Part 5 – Food for Thought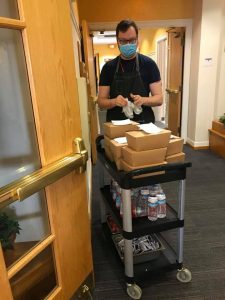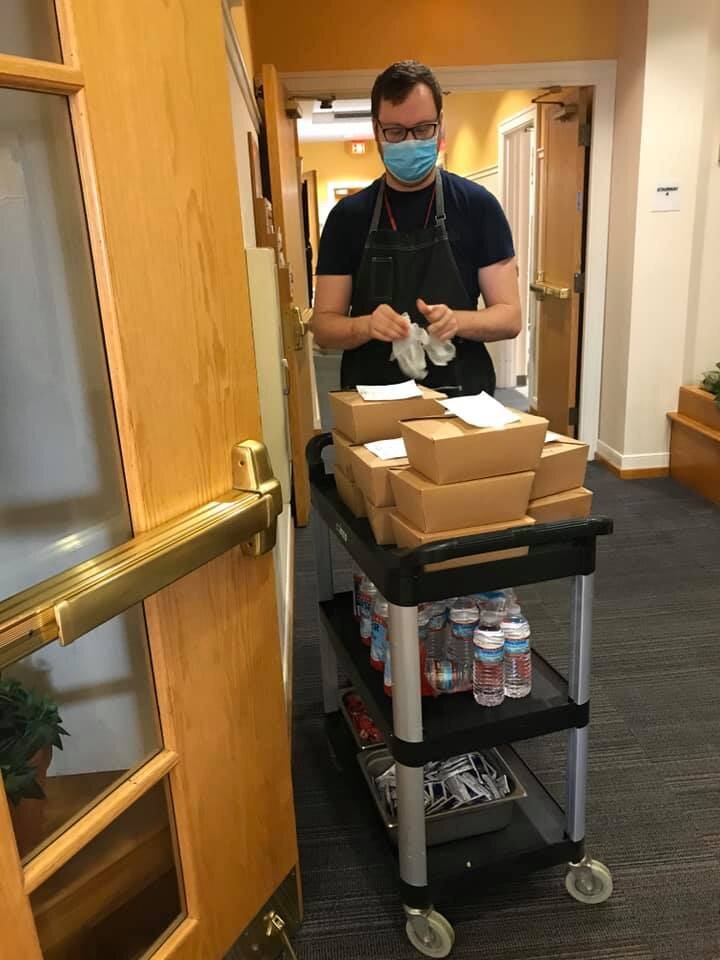 About the Series
We're all in this together, and at the Ronald McDonald House of Cleveland we've made a lot of changes in order to provide comfort to families during an already-stressful time, while keeping them as safe as possible from the new threat of coronavirus. 
We have ourselves also found comfort in each other and all of the members of our Ronald McDonald House Family, near and far. For the next few weeks, we will be sharing some of the things that continue to keep our House a home, our family together, and ourselves inspired.
From our Kitchen: Food for Thought
—Scott Lovasz, Group Partnership Manager
2020 was looking to be an amazing year for all of our group activity programs at the Ronald McDonald House of Cleveland (RMH). As of March 1st, the House had been full to capacity with families and we had more volunteer groups providing meals and activities than ever before. January and February (which are typically slower for group volunteering) were packed with an average of almost three groups per day. This allowed us to fulfill our daily commitment of a continental breakfast, lunch and dinner to our families. Things were steady, volunteers were happy; everything was as it should be.
On March 9th, Governor DeWine announced the first case of COVID-19 in the state of Ohio. At this point, we still didn't understand the gravity of the situation and what was to come. By March 11th, we had begun closing common areas of the facility, including the dining room. With 48 families remaining at the House, we needed to move fast in changing how our program was structured. Families who stay with us have medically-fragile children and are already faced with uncertainty. Now more than ever, they would need our support. In one day's time, we would go from a buffet style self-serve operation to full room service.
Food delivery has been great. It keeps us from getting exposed to too many people and the food has been plentiful. My favorite has been the parmesan-crusted chicken with pasta. RMH has taken care of everything we need.
Then the almost unthinkable happened. On March 13th, due to the rapidly evolving situation and the best guidance we had from health officials and our hospital partners, we made the difficult decision to suspend all group volunteer activity at RMH for the foreseeable future. This decision came with heartache, sadness, and worry but we knew it was the best interest for all involved. Now we were faced with this question: How do we turn a communal living facility that relies on volunteers, into an isolated and safe home for families, and continue to offer meals and support with only our very small staff?
With an optimistic spirit, we went on. Our families face difficult situations daily in and out of the hospital—we knew we had to keep things running for them…so we did. Staff from other areas stepped in to fill volunteer roles in all areas, including the kitchen. We fine-tuned our new room-service operation. Guests now fill out forms every day to "customize" their meals. We let them know the menu, and they let us know how many meals need to be delivered to each room, during which time slot. We offer 11 AM to 1 PM for lunch, and 4:30 PM to 6:00 PM for dinner. At 6:15 PM we make our rounds with a dessert cart featuring cake, brownies, ice cream novelties, and lemon ice. The meals/desserts delivered are more than just food—they are a gift of hope, confidence and love for our guests.
Excellent service and we appreciate the health protection. My kids are excited about many great meals like burgers and chicken and we parents enjoy the healthy grilled meals.
It's hard to believe that all these changes happened in four short days, but just when we thought we had it all figured out, on Sunday, March 15th, Governor DeWine announced that all bars and restaurants would be closed until further notice. Families could no longer go out to eat even if they wanted to, which made our meal program even more critical. It was also at this point during the crisis that we began looking at the food supply chain and options moving forward. Our family meal program sponsor, Sysco Cleveland has been a great help in keeping us informed about issues affecting the food supply and has been giving us daily updates to help us plan ahead. In true RMH style, we have all pressed on.
The RMH Community Responds
Even though we are there physically maintaining House operations and serving our families, we have not done ANY of this alone. This crisis has shown us more than ever how generous and dedicated our volunteers and community partners are. We have received dozens of donations to our food program, and numerous notes of encouragement and thanks, for which we are very touched and grateful. Now, we are excited to announce that in the next few weeks our partners from Everstream, SITE Centers and Majestic Steel USA have all donated catered meals. Because of kindness like this, we can act on our mission to support families even during this uncertain time. Thank you to all who have continued to send love and hope our way.
At this time there are 22 families who continue to call the Ronald McDonald House their home. As a promise to all those volunteers who are worried about the families, and itching to come back, I would just like to say that we will continue to adjust, act, and persevere through this pandemic in order to support our families—and we can't wait to have you all back! Thank you for supporting us from afar! Stay safe and healthy.