29 Jul

Second Home, Second Hope
An unexpected return and whole-family support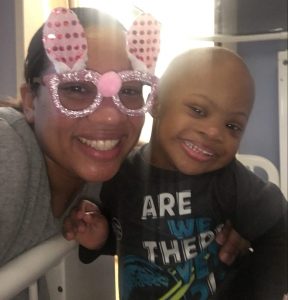 When her son Cameron underwent heart surgery at just three months of age, Adelaida Brown was able to stay close to the hospital at the Ronald McDonald House, allowing her a community of support and the ability to be at her infant's bedside within minutes. After seven nights and a successful treatment, Adelaida was able to take Cameron home. She never expected to find herself back at the House, but less than two years later, Cameron, now a toddler, was diagnosed with leukemia and would need months-long treatment.
Adelaida couldn't leave her three other children for that long—Kaiden was just an infant—and a two-hour round trip made commuting an impossibility. Luckily, they were not alone in their journey. Adelaida, Cameron's siblings, Monica, DaViano, and Kaiden, and their grandmother Irma, checked into the Ronald McDonald House in December 2019, where they would live for the next 291 days. Despite the uncertainty that lay ahead, Cameron would have his whole family around him for support. Amenities at the House also helped relieve the strain.
The meals were helpful because hospital food is very expensive. I was really appreciative of the cooks because I was able to take food to the hospital and eat there later. When I came back at midnight, we had the shuttle, I was just able to go in and eat at that time. I also liked the fact that there was a laundry facility there—I was able to bring Cameron's clothes and wash them.
Along with keeping the family together, the House provided activities that kept the kids busy and their minds off their brother's illness. "They try to have so many activities for the kids and for the siblings, that I think it helps them forget: 'okay, we're going through a hard time but let's just forget about that right now and have fun'," Adelaida shares, and expresses how thankful she was for these doses of positivity her family felt, which made their journey a little easier. For instance, when they first arrived at the House, her kids saw the Hulk and Disney Princesses. Her 10-year-old son was transferring schools and had a lot on his mind, but seeing the characters allowed him to enjoy himself. While the kids enjoyed activities, Adelaida found much needed support in staff, volunteers and other families, some of whom she stays in touch with and considers lifelong friends.
The staff was amazing. They were very friendly. They understood what you're going through, they're always concerned how you were doing for the day…and just being around other families that also understood what you were going through…I know it encouraged me.
When changes had to be made due to COVID, the Ronald McDonald House was still able to support Adelaida's family. They were given an additional room to spread out and maintain distancing since she was no longer able to take Cameron's siblings to visit him at the hospital, and even though group activities were suspended, staff made sure the children had games and toys to occupy themselves. Meals were individually packaged and delivered room-service style to keep contact down, and no matter how late Adelaida returned from the hospital she was still able to grab food made by staff, or anything else she needed. The additional support was reassuring, and the family stayed safe from exposure to the virus.
Finally, at the end of August 2020, Cameron's treatment was complete and the Adelaida was able to take her family home. Despite the obstacles they've faced, Cameron is now cancer-free and thriving.
I don't think I could have gone through what I went through without the Ronald McDonald House…it's an amazing place for families.
Contributed by Grace Meyer, RMHC NEO Marketing & Communications Intern.