12 Apr

A Garden of Love
Garden Volunteer Bobbe Katzman Brings Joy to Families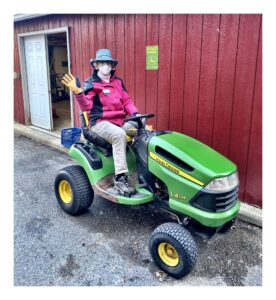 Our Cleveland Ronald McDonald House, affectionately and fortuitously known as the "Garden House" is unique in the Ronald McDonald House world. The Garden House offers more than two acres of spectacular gardens and green space for families to explore and enjoy during their stay.
Our gardens were thoughtfully designed as a place of comfort and respite for families—a place to wander, reflect and discover—a place of contemplation, community, and carefree play. Here, families can be families and kids can be kids.
Many life experiences and meaningful memories have been made in these gardens. They are a true and lasting gift, one that carries a deep responsibility and commitment to care for them today and beyond. This care is often a daunting, overwhelming job requiring many hands. We needed a gardening angel to help us organize and tend to everything created and envisioned for the outdoor space.
The vision of Bobbe cruising around in her tractor is priceless……cheerfully putt-putting over to our work area to pick up trash/branches, etc., sitting so erect and steady. She is a gem!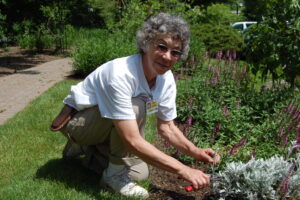 Enter Bobbe Katzman. It has been more than 25 years since Bobbe took up the offer to help us "a day or two" in the gardens. Her initial once a week volunteering stint became a five-days-a-week commitment. Over the decades Bobbe has been the beating heart of our garden efforts. She has passionately and skillfully coordinated the weekly volunteer team's efforts to maintain and beautify all that we see in the gardens. Her impact on the House and those who volunteer alongside her is immeasurable.
Congratulations Bobbe for 25 years of inspired service. And on behalf of the families who have lived at the Garden House, thank you!
—Mark Destino. Facilities Manager
Below, Bobbe's team of gardening volunteers share the impact she has had on them.
I love how Bobbe sees right away which people will work well together and what they like to do. I admire how every year she starts flats and flats of the annual flowers at home. She doesn't seem to be discouraged when the weeds win the battle sometimes. Bobbe is the loving keystone. She focusses us on the importance of the garden: bring pleasure to the guests. She not only knows the garden, she knows the house guests as well. She listens to their stories and tries to help to better their stay by encouraging them to use the garden, pick its fruits and enjoy its beauty.
It has been a pleasure to work with Bobbe, she has taught me so much about gardening. I am inspired by herdedication, no matter how early I arrive Bobbe would always be there in her garden hat waving to me - thetractor all fired up and tools for the day in the wagon.
Besides wanting to make the surroundings pretty for the families, Bobbe was always the reason for me to keep coming back. I learned something new every week I gardened. Her knowledge is so extensive. Bobbe impressed on me from the beginning that Ronald McDonald House families were going through so many challenges, that they need to see only fresh flowers around the yard....so we always clipped any that had lost their bloom.
It is mostly Bobbe's leadership that has made it enjoyable. I especially like the way she tells us each week what needs doing, what areas are the most full of weeds and yet is mindful of our abilities and suggests something easier. She also knows what areas are our favorites and in my case it is the decorative herb garden. Bobbe will then nicely say 'The Herb Garden is calling you, Dorothy'. I love it. Or back when there were so many thistle weeds, she would comment 'Can you believe there are more thistles this week?'.
One of the pleasures of volunteering at the Ronald McDonald House is spending time with Bobbe Katzman. She is a benevolent leader, inquisitive, direct and humorous. By the time we arrive she has surveyed the grounds and is ready with a task that needs to be completed or lets you decide what your project will be. Once into the job we look forward to hearing her tractor coming as we know then it's time for a bressicaeak! As someone who has a great knowledge of gardening and plants she is always interested in learning about your plant and garden discoveries. She asks for your input and uses it but also is not afraid to reign you in. After all this isn't our garden and the maintenance and care needs to be the first consideration. The commitment she has given to the Ronald McDonald House is exemplary.
When I first met Bobbe in June, I could immediately tell her passion for the gardens. She gave me an incredibly in-depth tour—naming every plant and explaining all the projects done in the past. That day, she really emphasized the importance of the gardens as a nature-getaway for the children. I could tell how much she cared for them and their families, and it especially shows through in her hard work at the gardens.