24 Feb

Welcome Home: The Anand Family Gives Back

In 2011 the Anand family's lives were thrown into turmoil. Jennifer, the oldest of seven children, was diagnosed with Stage 4 Hodgkin's Lymphoma at the age of 17. As Jennifer began treatment at University Hospitals Rainbow Babies & Children's, her parents Vijay and Ammu, and Jennifer's six siblings made the trek from Akron to Cleveland numerous times each week to visit as she underwent treatment. It was at the hospital that they learned about the Ronald McDonald House of Cleveland.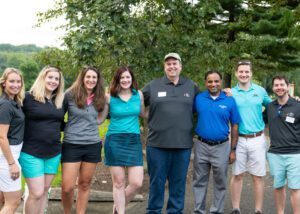 The following words are from Vijay, who spoke at the 2019 Emerging Leaders Golf Outing to convey to the participants the impact that the Ronald McDonald House of Cleveland has had on his family.
When your whole known world is in turmoil
When you hear the most dreaded word – 'cancer for your 1st born'
And you so much wish that it was you instead of your child
When the rest of your children feel fear and uncertainty
When your extended family and friends do not know how to respond and react or what to say or say the wrong thing
When there is unexpected setbacks and sudden procedures and a doctor visit turns into an ICU admit
And you live an hour away or more, and it is a winter snow storm in Cleveland
When you are trying to figure out what to fix for dinner, for the rest of the crew
In the middle of picking up medicine at the pharmacy
When school and sports and college prep and music practice and everything normal for the family of 7 kids is under duress
When you and your spouse are struggling yourself with questions of 'Why me? Why us? Why my child?'
When you think no one cares or understands
The Ronald McDonald House helped us in bringing order to our chaotic world
And became the home-away-from-home during radiation and chemo and BMT — for several months and several weeks for the year or more of cancer treatments at UH Rainbow Babies
Breakfast and lunch and dinner was always warm and welcoming and delicious
And we did not have to worry about doing dishes or running to the store for laundry detergent or milk and bread
When mom and dad could take turns being with the child at the hospital
Within minutes with the shuttle, and yet be close to the rest of the kids
When the siblings could go visit in the evenings when they can
When late evening chats with fellow parents brought encouragement and relief —
and share things no one else can understand
and cry with one another
When we could pray for each other and with each other and we rested in the arms of Jesus
Regardless of your faith or tradition, Hindu and Muslim and Christian or Jewish, There is nothing more comforting than that feeling of an extended family that we felt at RMH
When the kids could practice their music and piano in the dining room
When they could play in the yard and tree house and make crafts in the dining room
When dad could get work from the house, with WiFi and VPN into the office network and have conference calls and Skype meetings
And still not have to worry about the cost of a hotel room or a house, in our case, or the meals
When another parent graciously swapped the biggest room in the house to us, so that all 7 of us could sleep and stay together (one of the parents was always at the hospital)
What this has taught ALL of us in our family, is to look at the mostly volunteer run House, those who cook meals everyday and wash sheets and take care of the yard and garden and answer the phones and remove the trash
When this has made all of our family ever grateful for RMH for life, and grow so much more in empathy for sick children, overall and especially those who come from far away places from all over the world, to strive to be selfless and giving,
To take time to cook meals or raise funds or share stories
RMH is truly the greatest tangible blessing to a family with a sick child.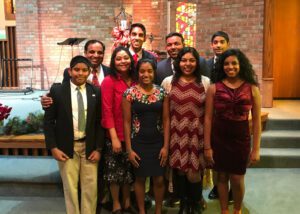 I thank you for your support, for your time and money and selfless giving, and that you will continue to grow in empathy and kindness, in supporting this great work.
And I am happy to report that a Jennifer completed her mechanical engineering degree from Akron and is employed at FM global, and celebrated 6 years in remission in April of this year (2019).
—Vijay Anand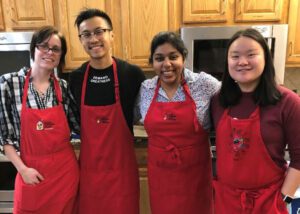 Jennifer is thriving and now volunteers at the Ronald McDonald House with her family and friends cooking meals, and recently joined the Emerging Leaders of RMH young professionals group. To read about Jennifer and her family's experience, visit her blog "Jen's Journey: The Ronald McDonald House".
During my treatments and hospitalizations, RMH kept my siblings close to me, allowing for visits, support, and even the only food that I would eat. RMH means the world to me, as it kept my family together when cancer threatened to shatter us.
With your generous contribution, you can help families like the Anands remain close and together during their most difficult times.