02 Apr

Our House is Their Home: Part 1
About the Series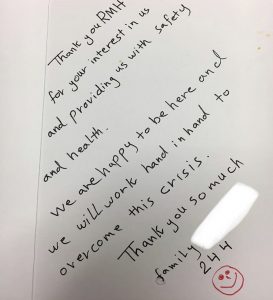 We're all in this together, and at the Ronald McDonald House of Cleveland we've made a lot of changes in order to provide comfort to families during an already-stressful time, while keeping them as safe as possible from the new threat of coronavirus. 
We have ourselves also found comfort in each other and all of the members of our Ronald McDonald House Family, near and far. For the next few weeks, we will be sharing some of the things that continue to keep our House a home, our family together, and ourselves inspired.
As with any House, the RMH kitchen usually bustles with activity. Volunteer groups preparing meals, kids baking cookies with their moms, friends gathering for coffee—these are all part of what makes our House feel like home. Though we have had to close our kitchen to volunteers and families, it remains a hub of activity for a small group of staff who, under the direction of Group Partnership Manager Scott Lovasz, have reinvented how we serve families and are putting their own special spin on room service.
Much like a fancy hotel, families now order their meals and specify a delivery time. Food is prepared by RMH staff with an abundance of caution and individual meals are carefully packaged for delivery to each room. This has spurred our kitchen crew to come up with new ways to bring joy to our families. An ice cream cart has been making the rounds, and it was very sweet indeed when our staff delivered an activity and treat in one with personal cookie-decorating kits for everyone at the House.
Family Time
During the long evenings away from home, our families normally rely on volunteers and each other for entertainment and support. People gather in the common areas and kids play with each other and the many available toys. Now that families need to remain in their private rooms and on-site volunteer activity has been suspended, some extra care has gone into helping those staying at the House feel connected.
Our stock of toys has really come in handy! Usually used for holidays and special occasions like birthdays, we had plenty of new, in-package toys to help keep the little ones at the House entertained in their rooms. Puzzles, games, art supplies and other items have been distributed to all of our families to help pass the time.
As Spring comes, the beautiful gardens at the Ronald McDonald House are more appreciated than ever as they give families an opportunity to leave the confines of their rooms. Development Coordinator Sara Schoonmaker was treated to this magical moment while helping prepare dinner:
"For the first time in several weeks, I heard Sara, Rose, and Alaina in the kitchen around dinner time. The girls could not have been more excited; it was the first sunny warm afternoon of spring. They had floral dresses on with their coats over their shoulders. Once the girls went outside, Sara's mom was relieved to have a few moments of quiet to herself. She was joined by Fatima who brought the bubble machine outside and Fatima's youngest son joined them outside. The kids were running around chasing the bubbles and squealing with delight. It was an uplifting sight for everyone. The girls then took their babydolls in their strollers and played together in the grass until their moms called them inside for the night."
Developing New Skills and Friendships
Without our volunteers, staff members have stepped up to fill in a variety of roles at the House. Front desk, laundry, kitchen and maintenance duties have all been covered in shifts by staff from our temporarily suspended Community Programs and other areas. This has given employees from different areas the opportunity to work together (from a safe distance), while getting a better understanding of the vital contributions of our volunteers.
Director of Development Tim O'Callahan has spent several shifts behind the front desk answering the phone, calling hospital shuttles and tending to families' needs. We'll be sharing some of his, and other employees, experiences in future updates.
Staying Connected
We have often said that without our volunteers we simply could not do what we do for families. We never imagined that would be put to the test. And while we are managing one day at a time, we are not doing it without the continuing encouragement and support from individuals and groups alike. Many have sent encouraging notes, contributed to our meal program and shared information on social media.
Facility Operations Manager Mark Destino recently shared the beauty of Spring in the gardens by sending photos to volunteers. In return, we were uplifted by this note from RMH volunteer Mary Jane Soltysiak:
"When I was scrolling through the pictures my thoughts drifted to when I started volunteering at the House. I'm sure I was like everyone else. I just wanted to help the families who were taking care of a sick child and had the misfortune of being far from home.

But somewhere along the way, my fellow volunteers and I, WE have become a FAMILY and you can't imagine how much I miss you ALL!

You are in my prayers."
We Can Do This Together
The list of those who are helping us through this uncertain time is long and we are uplifted daily by the contributions of our Ronald McDonald House community. We are grateful for every single letter, social media post and donation, no matter how big or small. We will continue to keep you updated on how we're doing, and we appreciate hearing from you. We look forward to the time when we can share face-to-face; in the meantime, we give you this message from RMH Executive Director, Craig Wilson: