17 Nov

Cameron Stands Tall

If you watched Cameron Harris run through the playground grinning from ear to ear, you'd never know how difficult his journey has been. Born in 2012 with several congenital problems, Cameron struggled with scoliosis, torticollis (curvature of the neck), a single kidney and a hole in his heart. As he grew and some issues were resolved, Cameron's scoliosis worsened and by age three his spine had developed a 74-degree curve, causing him great pain and difficulty moving around. If left untreated, the consequences could be catastrophic.

Cameron's great-aunt Rabia stepped in to help with his care, taking him to doctor's appointments and physical therapy. When physical therapy proved unsuccessful, spinal rod surgery was recommended. Unfortunately, the best surgeon was a couple hours from their home.
I really don't know who referred us, I just know whomever I got in touch with, I was crying…Sometimes you need help and here at the Ronald McDonald House, they give it to you…they just want to offer help.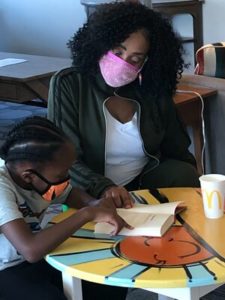 When he was just four years old, Cameron had his first spinal surgery. The family stayed at the Ronald McDonald House for a week so Rabia, along with Cameron's mom and brother Curtis could be there to support him and help him recover. "Cameron was put in a body brace after surgery," explained Rabia, "but he hated it. I had to keep him walking and climbing stairs at the House." The volunteers and staff also helped keep his spirits up, "always checking on him and making sure he ate meals." Rabia tears up recounting how he took his first unassisted steps in the backyard, with Curtis and other kids and families at the House cheering him on.
You get to eat a good breakfast, and they have a lot of toys.
Cameron comes back periodically to have his spinal rods lengthened as he grows, and he loves staying at the Ronald McDonald House. "You get to play outside, and watch TV, and eat, and play the games," he says, "I made friends." Only once was he was a little concerned about a visit. They had to stay for four nights in December of 2018 so he could get new rods and Cameron was worried that Santa wouldn't be able to find them. Donors and volunteers provided gifts and holiday cheer; Cameron's fear turned to joy and his family was able to focus on his care and still be together for the holiday. 
Today, Cameron is a thriving, active 8-year-old who grows taller every day. He'll continue needing adjustments and new rods until puberty, and the Ronald McDonald House will welcome his family back through every step of their journey. "The staff knows us and we know what to expect. It's always clean, comfortable, secure and the volunteers even make dinner. The simplest of things I don't have to worry about," says Rabia, and to our donors she adds "I want you to know that I appreciate what you do."
Rabia Harris shares the impact that RMHC Northeast Ohio has had on her family.