17 Oct

Kelli Argento Finds and Returns Support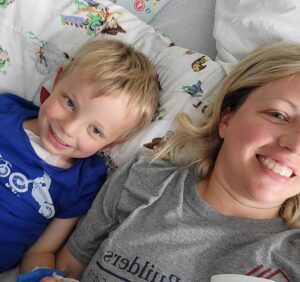 Kelli Argento knows how to plan for long hospital stays. In the years since her son Ryder's diagnosis with hypoplastic left heart syndrome (a congenital heart defect), she has learned what to pack, how to help Ryder prepare for procedures, and what her role will be while lifesaving medical treatment is provided for her son.
Kelli has shared her knowledge and wisdom with other parents in a resource guide now available on RedTreehouse.org, the Ronald McDonald Family Resource Link. But before she became an expert in parenting a child with medical challenges and special needs, she was an expectant mother who hoped for nothing more than to bring home a healthy baby boy.
We went to the hospital not knowing we would be in this situation.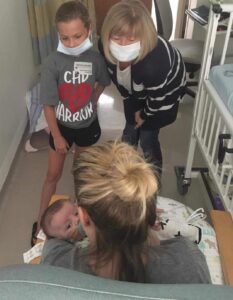 Kelli explains that she had a normal pregnancy with all recommended prenatal tests, but Ryder was just 16 hours old when his breathing became noticeably labored. He was transferred three times, to four different hospitals, all before he was two days old. The final transfer took them to Cleveland Clinic Children's hospital.
It soon became clear that Ryder's hospital stay was not going to be a quick one. A nurse referred Kelli to Ronald McDonald House Charities of Northeast Ohio (RMHC NEO) for the support she needed to care for herself, so that she in turn could focus on caring for Ryder.
I wasn't thinking about where I was going to sleep, or what I would eat, or how I would take a shower. I didn't want to leave my child's side. You know you need to take care of yourself to take the best care of your child, but it's hard to do that when they need so much,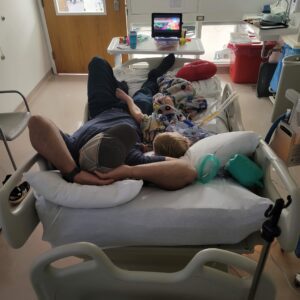 "I didn't even know what this organization was that the nurse was talking about–but my goodness–we were grateful when we found out. There were beds and a room, but also so much more," Kelli shares.
She and her husband Tony stayed at the Cleveland Ronald McDonald House for the first two months of Ryder's young life. "My husband eventually had to go back to work, so he would sleep and shower there, while I slept at the hospital. Some nights I just really had to have a bed, so if I felt secure leaving Ryder in the care of the night nurse, I would go to our room at Ronald McDonald House to rest," Kelli shared.
Ryder's grandparents were also welcomed at the Ronald McDonald House as part of the support the young family needed. "My parents just did everything," remembers Kelli, "we had quite a bit of laundry that would pile up, so they came to the House and did our laundry."
During long days at the hospital, Kelli was also able to use the Ronald McDonald Family Room, located right on the pediatric unit.
They provided us with snacks, hot meals, a refrigerator to keep a couple things, and laundry and showers for the days when I just couldn't leave the hospital," Kelli recalls. "Even the smallest gesture meant a lot to us, like the goody bag we received that had a small stuffed animal in there for Ryder.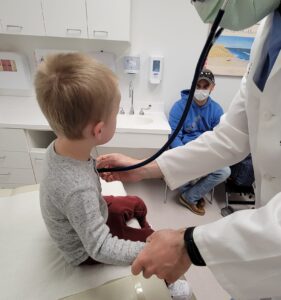 Children like Ryder who are born with a complex medical condition often require ongoing care. He has been hospitalized for planned surgical procedures, as well as typical viruses and infections can be life-threatening for Ryder. With each step along the way Kelli and her family have continued to find support from RMHC NEO.
Ryder, now 5, has a very bright future ahead, proud mom Kelli tells us.
He is so smart and a very hard worker. I have no doubt he will do big things! He loves to be outside, loves trucks, swimming, cooking, anything mechanical, and he loves playing with his doggies!
Meanwhile, Kelli's doing some pretty big things herself. A former kindergarten teacher, she is committed to sharing what she's learned to support other parents of kids with medical issues. In 2022, she became a published children's author with Wayne the Warrior, a fun adventure story to help kids understand and be brave for hospital visits. More recently, Kelli became a RedTreehouse.org contributor, sharing her journey and many valuable tips and resources in our latest Parent & Pro Pick, Parenting in the PICU (Pediatric Intensive Care Unit). We can't wait to see what she does next!