23 May

New Dad Rallies Fans for Families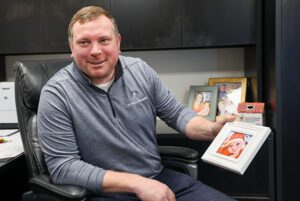 When Tylor Mettler and his girlfriend Hillary Heaton began planning a move to Cleveland in 2022, they had no idea just how important that decision would be for the health of their unborn baby girl. The move was prompted by Tylor's new job as general manager for Delaware North, the concessions provider for Progressive Field and the Cleveland Guardians. We met Tylor at the ballpark, where he shared their story.
It's our first child, we were just head over heels to move to Cleveland and have a child.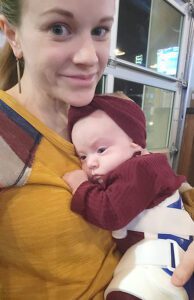 Right before the move, the couple found out that their unborn child has spina bifida, a birth defect in which a baby's spinal column doesn't form properly, leaving nerves and a section of the spinal cord open and exposed. This can lead to spinal, brain, and nerve damage at birth, and can impact a child's leg strength and ability to walk, run, or use the bathroom.
"There are different levels of spina bifida. Unfortunately, Hadilynn, our daughter, has the most extreme version of it," Tylor explained. The most advanced treatment involves complex surgery before the baby is born. Tylor and Hillary were delighted to find that one of the few hospitals that offer this option is the Fetal Care Center at the Cleveland Clinic, right here in their new hometown. "When you think about the number of hospitals and doctors who do this surgery, and how we were lucky enough to move to Cleveland…falling into the world that we're in was fantastic."
Hillary and the baby underwent the complex in-utero operation in August of 2022, more than three months prior to Hadilynn's expected due date. During their week in the hospital, Tylor and other relatives experienced the support and resources of the Ronald McDonald Family Room at Cleveland Clinic Children's Hospital. They had access to boxed lunches, snacks, showers, laundry and a place to just rest and recharge while Hillary recovered.
We spent a lot of time in the Family Room. Got to know the volunteers up there. Got to know more about the House…They were so gracious.
Tylor and Hillary knew that their daughter would need to spend some time in the hospital after her birth later that year and were comforted by the knowledge that they could stay close by at the Ronald McDonald House of Cleveland. In the days following Hadilynn's arrival on November 30, they had a place to call home while she received the care she needed just minutes away.
"We don't live far away, half an hour," Tylor said, "but being new parents, we wanted to stay as close as we could to the baby because we didn't know the extent of the complications when she was first born. So, we stayed at Ronald McDonald House to be as close as possible. It was fantastic—they treated us great."
The care they received from RMHC Northeast Ohio had a lasting impact on Tylor and Hillary. As a hospitality and food and beverage professional, the meals really stood out to Tylor. "When I walked into the Family Room and the dining room at the Ronald McDonald House…I saw families sitting down and eating. Everyone there has a different story, and I think that's the important part, because no one knows what everyone else has gone through, but everyone can sit down at a table and eat together," Tylor observed.
We met people from all over the world there. They're going through the same thing, or something similar that we went through. And that sort of just set us up for what we're doing today.
The support that Tylor, Hillary and Hadilynn found at the House and Family Room prompted Tylor to want to give back, and his job presented him with a unique way to do so. The RMHC NEO Pull Tab Initiative recycles the tabs from aluminum cans into money for the Family Support Fund. Since Cleveland Guardians fans are projected to enjoy more than 1.5 million canned beverages at Progressive Field during the 2023 season, Tylor saw an opportunity to get the whole city involved in collecting pull tabs, which the Guardians will then deliver to RMHC NEO.
Coupled with a plastic bottle cap collection program championed by right fielder, Oscar Gonzalez, and with both efforts supported by Pepsi, the outcome will be a major league win for families who need us.
As Hadilynn continues treatment, the family still visits the Ronald McDonald Family Room. RedTreehouse.org, the Ronald McDonald Family Resource Link, will also provide pathways to support for things that may arise throughout her childhood.
There's a lot of medical things still going on. There's a lot more that she's going to have to go through in her lifetime. Surgery before birth was step one of many.
As those steps come, Haddie and her parents will continue to find support and resources through Ronald McDonald House Charities of Northeast Ohio, and so will many other families – thanks in part to her dad's desire to give back by encouraging Guardians fans to pull together and donate their tabs all season long.
The gesture of recycling pull tabs is about more than just generating revenue. Each tab represents an act of kindness. Imagine how much hope we can bring to families throughout Northeast Ohio with 1.5 million acts of kindness from Cleveland Guardians fans.