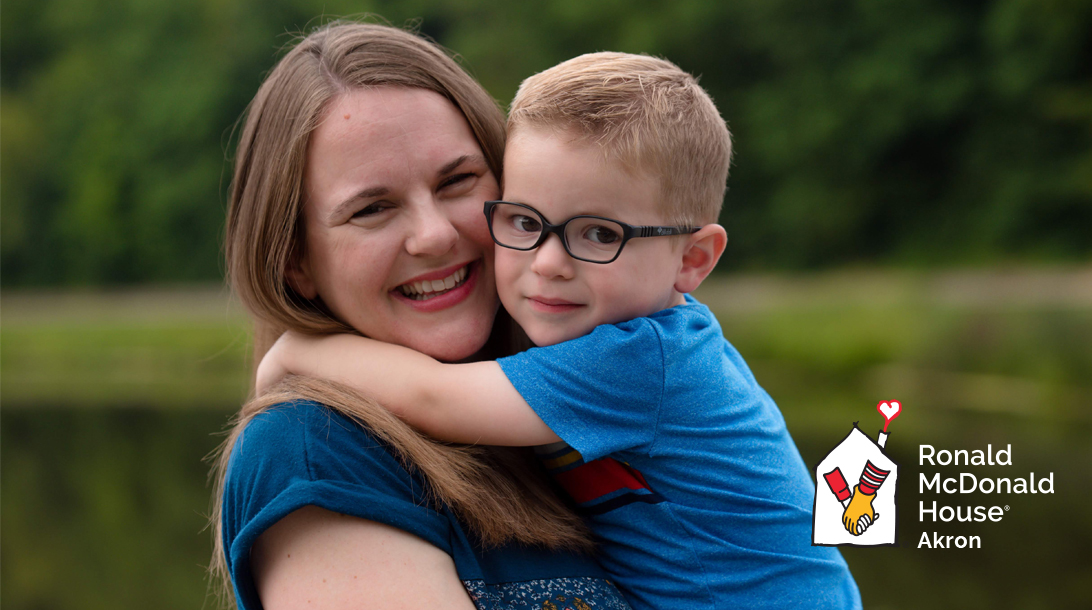 08 Oct

Matthew's Story
I felt like I was coming to stay with family.
When two-and-a-half-year-old Matthew Oldham's doctor in Houston mentioned that he knew of a doctor at Akron Children's Hospital who could treat Matthew's rare nystagmus due to his ocular albinism, his mother Kimberly did all the research she could to be able to make it happen.
As she was making an appointment with the staff at Akron Children's hospital to see the doctor, they told her about Ronald McDonald House Akron so she reached out to see if staying there would be an option for her and Matthew. From the first phone call to the House, Kimberly knew that staying there would be the best choice. They listened to her needs and were willing to work with her situation. Even so, when she arrived, her nerves and emotions were high – she was anticipating Matthew's surgery and she was on her own because her husband needed to stay at home with their 6 other children.
When I stepped through the door, my mind was immediately put at ease." said Kimberly. "The house was so beautiful and clean and they greeted us by name – I felt like I was coming to stay with family."
Even more reassuring for Kimberly was how the staff went out of their way to reach out to Matthew as well. They talked to him and made him feel comfortable.
"Matthew is two-and-a-half and has so much to say. He would just talk and talk and the staff would sit with him and listen like they had all the time in the world," said Kimberly. "They made him feel like a hero."
Kimberly's favorite moment was when they got to their room and saw there was a handmade blanket on the bed just for Matthew.
"It was perfect just for him – he loves trains. He wouldn't let it go: he wanted to sleep on it, carry it around, wouldn't leave it anywhere," said Kimberly.
It was especially touching for Kimberly because she felt like her efforts were coming full circle – she had made and donated the same kind of blankets to organizations before. "It was a little signal to me that we were in the right place, doing the right thing, and that everything would be ok," said Kimberly.
Just to have a place to eat good quality food in a home environment was everything for Kimberly. They never had to worry about what they were going to eat – the fridge and pantry were always stocked, and Kimberly was so touched by all the volunteers who would come and cook for the guests.
"The food spoke to me. Food is my love language and I love a good home cooked meal, so it was a blessing to have healthy, home cooked meals and to not have to eat fast food," said Kimberly.
During mealtimes, Kimberly was able to meet other families with children who have similar conditions. She was able to talk to them and to see the progress that they have made, which gave her hope for Matthew's condition as well.
Matthew had a blast – he loved the playground, and they were able to go to the Akron Zoo and Children's Museum.
"It was an unexpected benefit that I got to spend so much one-on-one time with Matthew, and he absolutely loved it," said Kimberly. "He still asks when he can go back to the "hotel with the plastic man".
The Oldham's stayed for 4 nights, and after meeting the doctor at Akron Children's Hospital they were told to come back in 6-9 months for the actual surgery. After that, they will have to periodically come back throughout his life for regular checkups.
"It makes me feel so much better about the future knowing that we have somewhere amazing to stay when we have to come back for Matthew's procedure," said Kimberly. "It takes so much pressure off the whole situation."
The Oldhams feel so strongly in what the House was able to do for them that they've already made contributions and encouraged their friends and family to do so as well.
"It's one of the most comforting charities that I've seen," said Kimberly. "Of course it's important for families financially, but on top of that, it adds so much more than relief of a financial burden. It lifted the huge emotional burden."
Kimberly added, "When living away from home for a long time to mentally and emotionally able to take care of your child and family you have to eat well, you have to sleep well, you have to be in the best circumstances. Ronald McDonald House provides this amazing service for so many families."
The Ronald McDonald House Akron has been helping thousands of families like the Oldhams stay close to their children during hospital stays since 1985. Donations fund 98% of the operating costs of the House and it's important for the community to rally together and help other families in need.
"As a family, we will continue to donate to the House for the rest of our lives," said Kimberly. Her family realized how important it was to give back to the community and now they are always willing to put in a donation.
No matter how big or small, a donation will help Ronald McDonald House Akron run and help many other families like the Oldhams. Find out how you can help here.
Other ways you can help: