19 Dec

McFamily Service: Comfort for Sarah
Serving a McDonald's Manager, When and Where She Needs it Most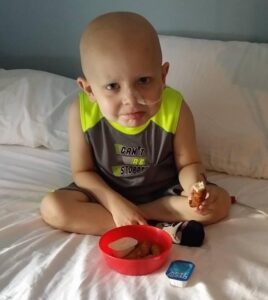 "I know how much it can personally help people." Sarah Cramer sat across from us at the McDonald's she manages in Northeast Ohio, having taken a break from her busy day to share her story. "When you've used the services and you know the difference it makes, it's a little easier to ask customers to Round-Up."
In 2013, Sarah Cramer was a busy mother of three and shift manager at McDonald's. She knew about RMHC and the Ronald McDonald House because of the relationship with McDonald's as our founding mission partner but never imagined she would need our support. That changed when her three-year-old son, Billy, was diagnosed with a rare pediatric cancer: stage four neuroblastoma.
From McDonald's to the Ronald McDonald House
Sarah took an immediate leave from work to be with Billy. He needed a stem cell transplant that required a 100-day hospital stay. After that, he could leave the hospital if the family had a place to stay nearby. Sarah and Billy checked into the Ronald McDonald House, where they would live for the next month.
We could walk over each day for appointments, and we always knew there would be a good dinner that night...My family went from a two-income household, to one, literally overnight. Having somewhere to stay was huge, because we couldn't afford to stay at a hotel for that long of a time.
Though Billy needed to remain isolated from other families, House staff and volunteers helped maintain a sense of normalcy, even setting aside time for the family to be alone in common areas of the House. They got to be together as a family and share important milestones, including a second-birthday party for Billy's younger brother. "It was great for the kids to be able to hang out with their brother in a more normal setting than just sitting in a hospital room with him," remembers Sarah.
From Akron to Cleveland to Cincinnati, with love
With Billy's successful treatment and a return to dreams of a large family, Sarah became pregnant with their fourth child. Unfortunately, "normal" family life was again put on hold when, at her 20-week ultrasound, Sarah's baby was diagnosed with a severe congenital heart defect.
The chances of her surviving to birth were slim, but she made it and our daughter, Brynn, was born exactly two years to the day of when Billy was diagnosed with cancer.
Brynn had open-heart surgery at 12 days old, but at about four months went into cardiac arrest. They were transferred to Cleveland for a second open-heart surgery. Sometimes even a few minutes away is too far, and Sarah didn't leave the hospital for the entire month they were there. The Ronald McDonald Family Room, right on the pediatric unit, helped her stay strong with a place to step away from beeping machines, a bite to eat, hot shower, kind volunteers and other comforts.
I was able to do laundry and relax—even just a short time helped keep me sane during a difficult time. It's the little things that you don't have to worry as much about when you have so many bigger things to worry about, and that's what makes a difference.
Hope for Brynn's survival now lay in a third open-heart surgery, which led Sarah and her husband to another specialist in Cincinnati. Sarah checked into the Ronald McDonald House in Cincinnati,* which would be her home for the next several weeks, providing much-needed respite when she needed it most.
Being able to walk or drive right next door to the hospital, in a city that I didn't know, made things so much easier. It was a terrible period of time with how sick Brynn ended up being but having my own room to go back to when I needed to shower and get a good night's sleep literally saved me.
The Ronald McDonald House cared for Sarah, providing sustenance and respite so she could focus on the most important thing—being there for her infant daughter. When things didn't go as she had hoped, staff and volunteers were there with compassionate support.
Back to work and working to give back
When Sarah was ready, she resumed her career at McDonald's with a first-hand appreciation of the donations customers and owner/operators give to RMHC. After nearly six years, she finds inspiration at work knowing that her efforts help other families like hers.
During all three experiences, we were treated so well at each location. The rooms were really nice, we had our own space to be in, and we had a nice dinner each night that we could enjoy. As the GM at a McDonald's, it's given me so much joy during our new push to Round-Up for RMHC. I personally know just how much of a positive impact that RMHC makes for the families that stay. Thank you all for everything that you do!
And to that we say thank you, Sarah, and the entire McFamily, for everything you do to make a difference with us, each and every day.
* What began as a single Ronald McDonald House in 1974 is now a global network of more than 260 local RMHC Chapters.
There are many ways to give to RMHC NEO at your local McDonald's:
Purchase menu items featured in local and national promotions, including Happy Meals, Large Fries, Shamrock Shakes and Frozen Carbonated Beverages
Round up your purchase to the nearest dollar through Round-Up for RMHC
Make a direct donation in the McDonald's mobile app
Add your cash change to donation collection boxes in restaurants and drive-thrus