07 Feb

Re-Peters Jump in Remembrance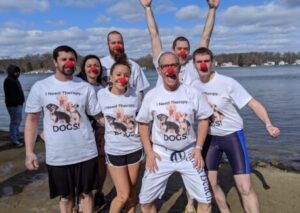 "It's ok to scream, no one will judge you for it," veteran Polar Bear Jump participant, Daniel Stenz, said when asked how to handle the cold sting of the lake. But his advice could just as easily be applied to learning your child has cancer, something Daniel has experienced more than once in his life.
On February 25, 2023, supporters of Ronald McDonald House Charities® of Northeast Ohio will plunge into icy cold waters as a part of the annual Portage Lakes Polar Bear Jump fundraiser. First-time jumpers seeking advice on prepping for the plunge can look to The Re-Peters, a team led by veteran jumper Daniel Stenz. Daniel and the rest of The Re-Peters will jump this year in memory of Daniel's son Peter, who lost his life to cancer last fall at the young age of 11.
Peter received his first cancer diagnosis, neuroblastoma, in 2010 when he was just three weeks old. With successful treatment he went into remission and began to live a typical childhood. He developed a love for reading, was an honors student, and had a deep appreciation for music, especially the Beatles. Cancer was the furthest thing from the minds of the Stenz family when the second diagnosis came in 2019 and Peter's battle with alveolar rhabdomyosarcoma (ARMS) began.
Members of Peter's family spent nearly 200 nights at the Akron Ronald McDonald House during his battle with ARMS. It was during this time that Daniel met Glen Stout, a pet therapy volunteer who regularly brings smiles to the faces of RMHC NEO families with his four-legged companions. By that time both Glen and Daniel had heard about the Polar Bear Jump. Daniel was all in, but Glen wasn't so sure that it was for him.
The people we came into contact with at the Ronald McDonald House made a really hard time more pleasant. There was no judgment, they just wanted to help.
"I saw the event in a House newsletter that December, around the same time I met Daniel and his family. Daniel was excited to participate and challenged me to join him. I had no intention of doing the Jump before then!" said Glen. "Our team name that year was 'I Need Therapy…DOGS!' and Peter was our biggest cheerleader."
The challenges didn't stop there. In 2022 Glen challenged Daniel to join him on a 33-mile walk from Akron to Cleveland, starting at one Northeast Ohio Ronald McDonald House and ending at the other. Glen agreed to join Daniel and The Re-Peters for the 2023 Polar Bear Jump, leading many to wonder what the next dare might be. "He could come up with just about anything to support RMHC NEO, and I'd do it," said Daniel.
The Re-Peters are excited to be one of the largest teams and a top fundraiser for this year's event. Daniel revealed that being a leader and welcoming new jumpers to the team is part of the inspiration for his third plunge. He knows what it's like to stand and look out at the water, not knowing what comes next. Aside from letting out a good scream. Daniel says there's really not much more he could share to prepare first-time jumpers. With wisdom that applies to life as well as the Polar Bear Jump, Daniel shares…
We want to plan. We want to be secure and know what comes next, but that's not how life works. Not everything can be prepared for, sometimes you just have to jump in.
When the Stenz family jumped into Peter's cancer treatment in 2019 they hoped for a different outcome. They never imagined the good that would come from these incredibly challenging years, including Daniel's friendship with Glen and his advocacy and support for the next family that needs the services of a Ronald McDonald House program.
The 'what-ifs' aren't going to get you anywhere. Life is full of surprises. There's always a reason and there's always a positive, even in something so terrible.
Reflecting on Peter's life, Glen recalls fondly that "Peter was special. He was articulate, smart, and so funny. I never saw him sad, despite his illness. What a warrior he was." Daniel remembers his son Peter as a kid who wanted to experience and live life to the fullest. He was kind and empathetic, always asking others how they were even during his most difficult experiences. With Peter on his mind and in his heart, Daniel offered one more bit of wisdom to those considering participating in this year's Jump…
You don't want to wake up after the event has passed and wonder what it's like. Life is too short.