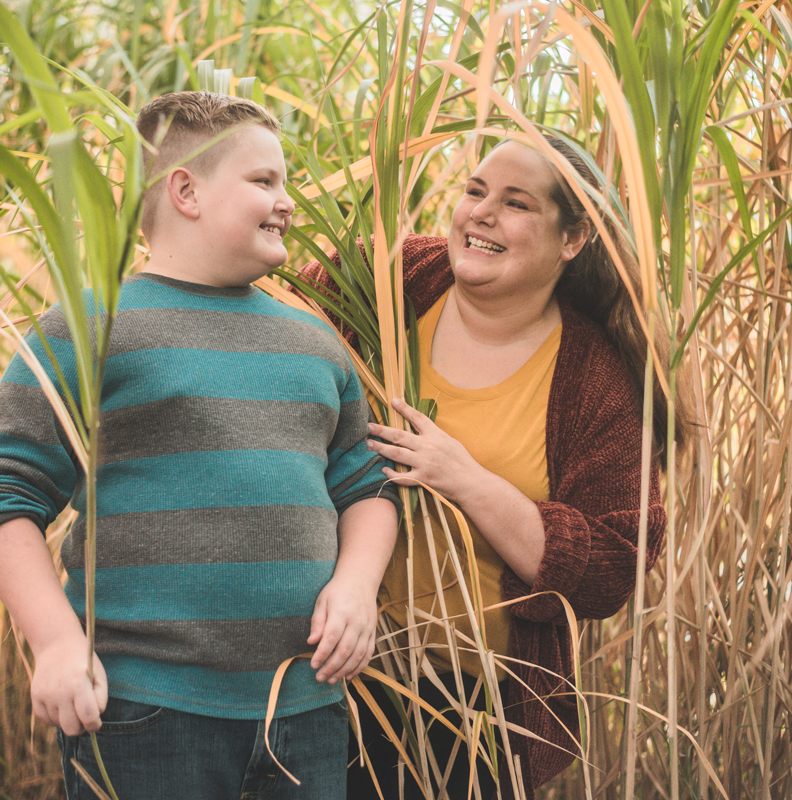 10 Dec

An Extended Family at the House: Angela and Matthew's story

Angela and Matthew have stayed at the Ronald McDonald House of Cleveland several times over the past three years, their longest visit being thirty-one nights. Below, Angela shares their story and how the House means so much more to them than a place to stay.

Angela and Matthew in the House gardens, photographed by Cat Carrillo

What if I told you I am a single, unemployed mom to a child who has a very rare illness and is chronically ill? You'd probably wonder why I am unemployed and you'd probably ask me how I do it. I am unemployed because taking care of a chronically ill child takes a toll on your work life. There have been several times I have had to call off unexpectedly for two to four weeks at a time, which makes it hard to stay in a job. As far as how I do it, I have a great family who loves me and my son, and they help us, but we also have an amazing adopted family here at Ronald McDonald House of Cleveland.

We first started coming here when I found a doctor that knew how to treat my son Matthew's liver condition. We had been to more than 5 different hospitals in Chicago and no one could help us. I got desperate and went on Facebook (I know—of all places). I knew there had to be other families whose children have what my son has. I was referred to a doctor here in Cleveland. I was very excited and so hopeful that I could finally get my son the care he needed. The doctor's office sent me a folder of all the hotels surrounding the hospital so I started calling around. By the time I was done calling I was sick to my stomach. I thought I was going to have to cancel his appointment because I couldn't afford to stay at any of them. Then I called the Ronald McDonald House of Cleveland.

Fast forward to present day. I never worry anymore about where we are going to stay. Matthew now has to come every 3 months for follow up appointments and we know we have a place at RMH. Recently, we were supposed to be here for two days, but that turned into two weeks. The day we were supposed to leave, I had stripped the beds, cleaned the room and packed the car. We were going home. Before we could check out Matthew started getting sick and a volunteer called us a shuttle to the emergency room. Matthew had a stomach virus, was very dehydrated and would need to stay in the hospital. I called the House to let them know I wasn't able to check out but had stripped the bed and needed sheets. The volunteer I spoke with was very kind and understanding, told me not to worry and said she would leave sheets in my room. After Matthew was settled I came back to the house for a hot meal and quick shower. When I got to my room the bed was completely made and the room was freshened up. There were toiletries to shower with and fresh towels. This made all the difference for me. It was one less thing I had to worry about.
If I had stayed at one of the hotels surrounding the hospital I might not have been able to keep the room, plus I couldn't afford to stay two weeks in a hotel. Between paying for a hotel and then the cost of meals on top of that, there would be no way I could get my son the care he needs.
Ronald McDonald House isn't just for the kids, its for the parents too. It allows us to have a safe, warm place to go where we can talk to other parents who are going through similar things. Not every child has the same ailment but we all have one thing in common—someone we love is sick. Matthew and I have developed friendships while staying here that have now turned into family. Our circle of support has grown through the years so much that Matthew tells everyone he has two homes: one in Illinois where we live and one in Cleveland because RMH has become our home-away-from-home. If it wasn't for Ronald McDonald House of Cleveland I don't know what we would do. We are and will forever be grateful for this wonderful house.
—Angela Sobol
Donate Now