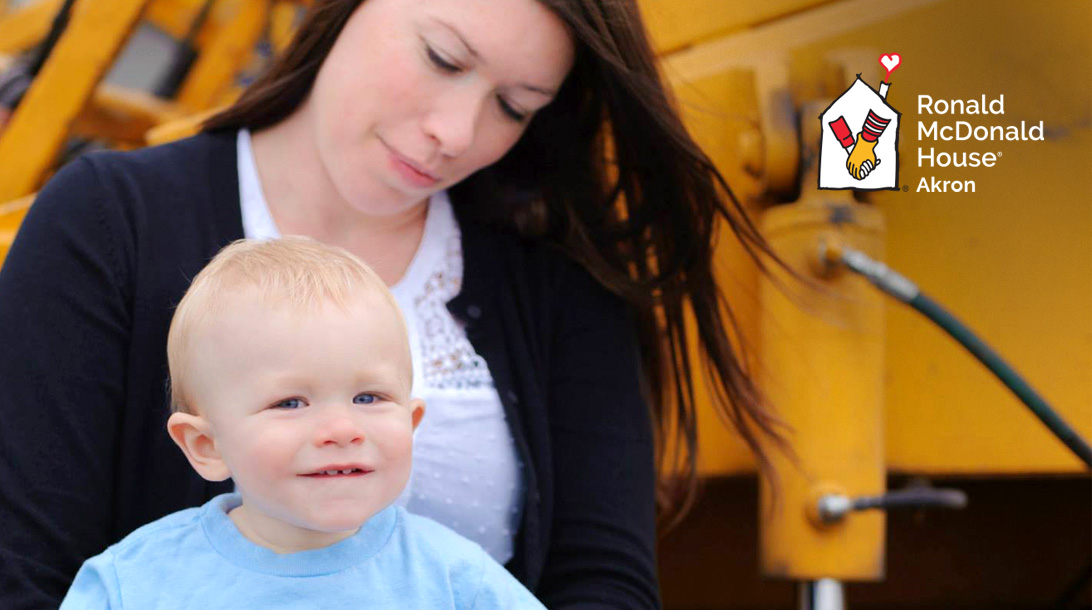 23 Aug

Crew's Story
You don't meet people like this often – they were like angels on Earth.
Crew was born on August 3, 2013 and was given a clean bill of health after his initial checkup from doctors, but when his mother Cyndi Foster tried to breastfeed him, his feet turned black. They were quickly instructed to go to Akron Children's Hospital Heart Center where they met with Dr. Patel and Crew had to undergo tests.
"Basically, I went from having a healthy pregnancy, and just having given birth thinking that my child was healthy, to sitting in a dark room with an Echo test for 2 hours and having the doctor utter the words 'your son will not survive without open-heart surgery', remembered Cyndi. "It's pretty… life changing to say the least."
Crew was diagnosed with Tetralogy of Fallot, a rare condition caused by a combination of four heart defects that are present at birth that caused oxygen-poor blood to flow out of the heart and to the rest of the body.
Because Crew was a newborn, doctors wanted to give him some time to develop before performing open-heart surgery, so the Fosters took him home. It was a difficult three months for the family – every time Crew would cry, he would turn blue because he wasn't getting enough oxygen throughout his body. In November 2013, it was finally time for his surgery.
Being from the nearby Canton area, Cyndi didn't think it was even an option to stay at the Ronald McDonald House Akron. After talking to a representative, Cyndi learned that the house was available to them, so she immediately jumped at the chance to get on the waiting list so that she and her husband would be able to be close, but also be able to have a comfortable place to sleep and take care of themselves while Crew was in the hospital.
The first night of Crew's surgery, Cyndi and her husband stayed with him in the hospital. As Crew began his recovery a room became available at Ronald McDonald House, so they moved in and were able to stay for a week. It was so valuable to the family to be close by as Crew recovered.
"The one night we were staying at the House, we got a call at 3am from the hospital letting us know that Crew's lungs had filled up with fluid and they had to do a procedure to drain them," remembered Cyndi. "It was the middle of winter, and we couldn't be more grateful that we could just run across the street to be there with him."
The House was a refuge for the Fosters – a place that they could take a moment to de-stress so they can come back with a positive attitude to get their son through this difficult time.
"I refused to cry or get stressed while I was with Crew in the hospital room. We would watch funny movies in his room just so he can hear us laughing and being positive," said Cyndi. "Ronald McDonald House allowed us a place to get the sleep we needed, a hot meal, and a shower so that we could keep being supportive for Crew."
As Crew got stronger, the Fosters had their other two children, Karrington and Carson join them at the house so they can visit Crew and bring more positive energy to fuel his recovery.
"The kids love the house," said Cyndi. " They still ask to stop by so we can drop off snacks for the other children staying there – they think it's wonderful."
Cyndi's favorite thing about the House?
"The towels," she said. "I know it sounds weird, but in that situation, it's the little things. To have these big, comfortable towels and to be able to take a hot shower after being in the hospital all day, but to still be close enough to our son – it was invaluable."
At his first follow up appointment at the heart center, doctors told the Fosters that heart babies do usually have delays in growth and could be less coordinated or smaller than their peers. Crew has proven them wrong – he has made a full recovery and has gotten clearance to play sports and doesn't have restrictions.
"He's doing amazing. He's the strongest kid," said Cyndi. "He's turning 6 soon, and while he is still being monitored every 6 months to make sure everything is working properly, his prognosis is good."
A year after Crew's first birthday, the Foster's decided that they were going commit to giving back to the Ronald McDonald House Akron at least once a year. Cyndi encourages everyone else to consider giving to the House as well:
"The biggest thing that I tell people that are considering donating or want to help but don't know how: you can give $5 or a million dollars and every single penny goes to a family in need, providing them with a sense of comfort during the most trying in their life."
Since 1985, ​The Ronald McDonald House Akron​ has helped thousands of families stay close to their sick children during hospital stays and while undergoing medical treatments.
For so many families like the Fosters, the House is the best option to allow them to be near their child during a time of incredible challenge and stress. Donations fund over 90 percent of the operating costs of the House. This small but mighty staff is supported by hundreds of volunteers, corporate and individual donors, and local restaurants that step up to help families dealing with a child's health crisis. In short, it takes a generous community to make this House run. Find out how you ​can help here​.
Other ways you can help: