14 Sep

Family Room Provides Comfort & a Home
There is a saying in caregiving, 'You can't pour from an empty cup,' says Cindy. "Thank you, Ronald McDonald Family Room, for refilling my cup so I could be the parent I needed to be at the times my very ill son needed me the most.
It all started with a sore rib.
By all accounts, 13-year-old Jeremy was a healthy active middle schooler. He ran track and cross country, so fast that he came in second in his age group at a popular 5K race in May 2016. A few months later Jeremy was away at camp when he complained that he had an injured rib. A trip to the ER and a blood test later showed that Jeremy had a dangerously low number of platelets. He was transported by ambulance to Cleveland.
On July 13, 2016, Jeremy was diagnosed with a rare form of leukemia, which is difficult to treat.
Jeremy immediately started chemotherapy. Although Jeremy's parents, Cindy and Scott Steinbrick, live 20 minutes from the hospital where he was being treated, they were frequent users of the Ronald McDonald Family Room. Thinking they would be at the hospital for a day or two, a complication could keep them there for a week.
"Being in the hospital with a critically ill child is an overwhelming experience. Not only do you have to deal with all the emotional aspects and advocate for your child, a lot of your time is dedicated to the things that many of us take for granted at home," says Cindy. If you run out of clean clothes, there is no dresser or closet to go to. If you want something to eat, there is no fully stocked kitchen. If you need a shower, the shower in your child's room is not available. If you want to relax, there is no comfortable living room in your child's room to hang out."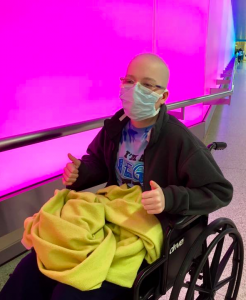 The Family Room allowed Jeremy's parents to be with him at all times. It provided the family with free snacks and hot meals, laundry, big comfortable chairs to relax away from the beeps of machines, a kitchen to cook food, and showers. Cindy was able to pack a "go" bag with three days' worth of clothes knowing she would be able to use the Family Room if she stayed longer. And it was the only place in the hospital open after 6 pm if they were an emergency arrival.
In March 2017, the Steinbricks learned the cancer wasn't under control. Jeremy would need a bone marrow transplant. He and Cindy arrived at the hospital on May 31 for the transplant. Jeremy was discharged on July 9 and is making progress every day. In one year, Jeremy—with one of his parents—stayed a total of 135 days in the hospital.
Last year our four Family Rooms served 80,000 individuals. Contributions from donors kept families by their children and gave them a sense of normalcy during a difficult time. Help us continue to serve our families in need.